Warren Nadine Auter Fravert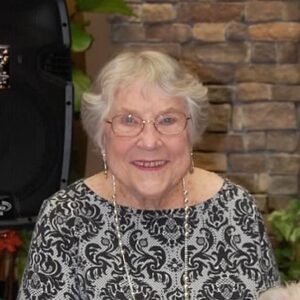 Mrs. Warren Nadine Auter Fravert passed away on April 3, 2020 at the age of 93 in her home. Mrs. Fravert was born in Louisville, KY and graduated from Shawnee High School. She attended and graduated from the University of Louisville where she met her husband of 67 years, William B. Fravert. Following their marriage in Louisville, KY in 1950, they lived in Louisville until 1962 when they moved to Columbus, OH. Mrs. Fravert was a stay at home mother to their three children but as they grew she began substitute teaching in the local schools. In 1974, they relocated to Vestavia Hills, AL. Mrs. Fravert worked at several jobs until she began her career as a Realtor, eventually retiring from Johnson, Rast & Hays at the age of 82. In 2013 she & her husband, Bill moved to Danberry at Inverness where they enjoyed many friends and activities.
Mrs. Fravert was predeceased by her parents, Edward H Auter and Nadine M Auter, and her sister, Madeline Fero. She is survived by her three children, Gail F. Willis (Royce), W. Craig Fravert (Cindy) and Keith E. Fravert (Karen); grandsons, Brett L. Amburgey (Holly), Drew Fravert, Evan Fravert and Reid Fravert, Patrick (Brandi) Willis, and Chris Willis; five great grandchildren; sister-in-law, Mary Fravert and nephew, Blair Shean (Mary Lou).
There will be a future Celebration of Life at Danberry at Inverness and interment in the Alabama National Cemetery with her late husband. Her family extends special thanks to the staff and leadership at Danberry at Inverness, especially to her loving companions, Anna Garza and Janice Drake who provided her with great care; and the caring and professional services of Oasis Hospice, especially Brenda Hall and Belinda Rollins who cared for her as well as her late husband prior to his death in 2018.