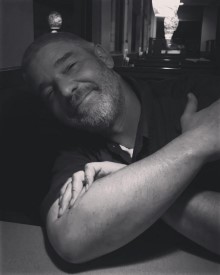 Steven Hull Raley of Hollywood, FL passed away on July 12th at age 52. Steve was loved by everyone that knew him, and even those who only knew him briefly. He was a loving, supportive father and family man, a dedicated patriot, proud to be an American, a hard working over-the-road trucker that any employer would be proud and fortunate to have, and an incredible husband in every way. He honestly wore many hats throughout his lifetime and he took pride in doing anything he chose to do.
Steve was very outgoing, always stayed positive, and had a great sense of humor everyone enjoyed. He was well known in the Helena Community and throughout Shelby County between coaching young football players to announcing for the Helena Huskies High School Football Team on APH Radio.
Steve was born in Birmingham, AL, on June 4, 1970 to Linda and George Raley. He spent his youth in Centerpoint, Alabama. The Raley family later moved to Hoover, Alabama, where Steve graduated from W.A. Berry High School in 1988. Steve attended the University of Montevallo where he was a member of Alpha Tau Omega Fraternity. He loved Auburn football, riding 4- wheelers, helping others whenever possible, and making people laugh. Most of all, he had an overwhelming love for his wife and children that he spoke about openly on social media.
He is preceded in death by his parents, George and Linda Raley and his eldest son, Andrew Raley.
Steve is survived by his wife, Angela Raley, his children, Matthew Raley (Taylor), Emily Raley, Christine Ponte (Zach), Stephanie Ponte, Mike and Holly Raley, and Kristie Lenz (Matthew and Emily's mother), as  well as many aunts, uncles, and cousins.
Whether you knew him as Steve, Dad, Jethro, Dozer, Superman, Pissed_off_Trucker, or any other nickname, you were blessed to have had  him in your life. He will be missed, and his loved ones will never forget how he made them laugh, how he cared, and how he fiercely protected those he loved.
Services will be held, Saturday, July 23rd, 2022, at Charter Funeral Home in Calera, AL. Visitation is from  9:30 AM – 10:30 AM, and service from 10:30 AM until noon. Steve will be laid to rest next to his son, Andrew, at Cedar Grove Cemetery in Maylene, AL.
In lieu of flowers, donations can be made to www.truckersfinalmile.org.