Samuel Hassell Marcus Jr.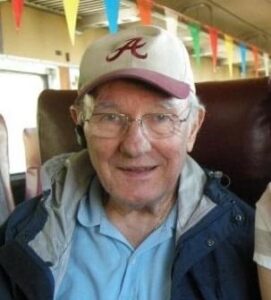 Samuel Hassell Marcus Jr, 81, of Mountain Brook passed away peacefully on Monday July 27, 2020. Hassell was born in Montgomery, AL on February 25, 1939. He grew up in Mountain Brook and attended Shades Valley High School and the University of Alabama. After his college career, Hassell joined the United States Air Force.
Hassell was a dedicated husband, father, grandfather and uncle. He loved his family dearly and bragged on them always. He was quick with a smile and never met a stranger. Hassell was also a proud Alabama fan where his brother played football. He worked for Red Diamond Institutional Foods and had retired from there many years ago. He was also very active with his Catholic faith and attended Our Lady of Sorrows in Homewood, AL where he could be found at the early service on Sundays and Wednesdays.
Hassell was preceded in death by his parents, Hassell Marcus and Sarah Marcus, his brother, Van Marcus, and his sister-in-law DeeDee Marcus. He is survived by his loving wife of 50 years, Lee Marcus, his daughter, Mary Hassell Marcus Petty (Norman), his grandchildren, Nathan Petty and Allison Petty, his nieces Melanie Sims and Ferrell Stanford, and his nephew Van Marcus III and many other family members.
A private family mass to honor Hassell's life will be held on Tuesday August 4th, 2020 at noon at Our Lady of Sorrows Catholic Church. A live stream will be available from the church website: www.ourladyofsorrows.com
In lieu of flowers, friends and family may make a donation in Hassell's name to Our Lady of Sorrows or the charity of their choice.