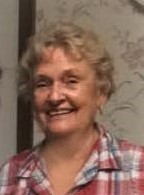 Peggy Marie Scott passed away April 3, 2020.  She was born November 17, 1936 in Montevallo, Alabama.  She married her first blind date, James David Scott and they remained happily married for over 60 years. 
 Peggy loved life.  She cooked regular Sunday dinners and elaborate holiday meals for her very LARGE family.  Everyone enjoyed gathering around for those special times and traditions. She relished in family trips to the beach and to the mountains.  She loved to garden, cook, can fresh vegetables and make home-made jelly. 
 Peggy also enjoyed picking strawberries, blueberries and pecans from her brother's pecan orchard which she made into the most incredible pies.  Some have said she was the best cook in Shelby County – and her family agrees.
 Peggy was an Avon representative for 36 years and consistently made Honor Society and President's Club; it suited her well. She enjoyed meeting and serving customers in the community. She developed special relationships with many of them and she loved them dearly. They became cherished friends.
 Peggy was a faithful Christian, loved God and was a lifetime member of Ebenezer United Methodist Church. Her life was a living example of the Bible verse, Ephesians 4:32 "And be kind and compassionate to one another, forgiving one another, just as God also forgave you in Christ."  She loved her family more than anything and showed her love and compassion on a daily basis.  She will be sorely missed.
 Peggy is survived by her son Wendell Scott (Dinah), daughters Karen Tennyson, Judy McGill (Steve) and Rachel Beth Whitfield, 11 grandchildren and 9 great grandchildren.  
 She was preceded in death by her loving husband James Scott, daughter Lori Lancaster, and parents William (Willy) and Naomi Arledge.
 Peggy was interred at Moore's Cemetery on April 7, 2020.