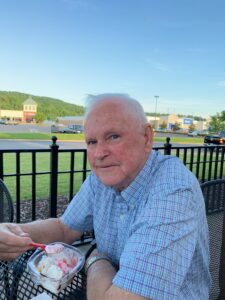 Ovid Merchant, Jr., of Randolph, Alabama, was called to his heavenly home on Wednesday, August 5, 2020, at the age of 80 years.
The youngest child, and only son, of Ovid Merchant, Sr. and Vera Simmons Merchant, Ovid was born at his family home in Randolph on April 17, 1940.  He always said he "was born at home so he could be close to his mother."
After graduating from Bibb County High School in 1958, Ovid attended Auburn University.  For more than 20 years, he was owner of successful auto parts stores in Montevallo and Clanton.  After retiring in 1990, in addition to other miscellaneous jobs that kept him busy, he worked as Post Master Relief at Randolph Post Office.
Ovid was a very active member in his church, family, and community.  He served God in many ways, one of which was through his active membership of Randolph Baptist Church. He was also an active member of Calera Masonic Lodge 445, and a previous member of Randolph Charity Masonic Lodge 331 and Maplesville Masonic Lodge 706.  He also served his community in many ways, such as, for example, as a volunteer firefighter at Randolph Volunteer Fire Department, and through service on the Randolph Water System Board. He was an active member of the Randolph Elementary School Alumni; and he coached both youth and adult baseball teams in Randolph and Montevallo.
Ovid was preceded in death by his parents and by his sisters, Ann Williams and Doris Smitherman, and by his stepdaughter, Lisa Dailey Roberson.
Ovid is survived by his sisters Virginia M. Miller, of Columbia, SC; and Marjory M. Bates, of Randolph, Alabama; his children David Merchant (Bonita), of Athens, Alabama; Sharon Walden (James), of Athens, Alabama; Amy M. Thomas (Michael) of Athens, Alabama; Beth Merchant, of Randolph, Alabama; and Susan M. Harris (Shane), of Dadeville, Alabama; and stepchildren David Dailey, of Brierfield, Alabama, and Tammy Dailey Riley, of Clanton, Alabama.
Ovid's seven grandchildren and eight great-grandchildren brought much joy and life to his senior years.  He also leaves behind LeeAnn, his faithful lab.  Ovid was also blessed to have so many great friends who stood beside him.
A celebration of Ovid Merchant, Jr.'s life will be Saturday, September 12, 2020 at 10:00 a.m. at Randolph Baptist Church  in Randolph Alabama.
Those wishing to honor Ovid's commitment to God, his family, and his community are asked to do so by donating to the Randolph Baptist Church Cemetery fund at RBC Cemetery, PO Box 275, Randolph, Alabama 36792.