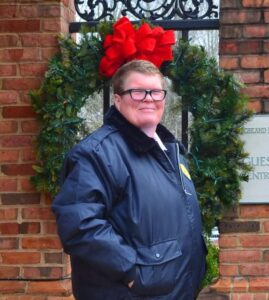 Lori Jean Bass, age 54, went to be with the Lord on Wednesday, February 9, 2022.
Lori is preceded in death by her parents, Terry & Cora Bass; brother, Steven Bass.
Lori is survived by her aunt, Jimmie Harris; cousins, Tara Folmar (Pete), Sherry Lutz and several other loving cousins. She is also survived by her adopted family,
mom, Alice Holsomback; sister, Pam Amato; brothers, Kerry Holsomback, Jeff Holsomback (Chasity) and several nieces, nephews and a loving and compassionate extended family of the entire Highland Lakes community. But the love of her life was her beloved dogs, Eli & Sasha.
Lori was a member of the Montevallo Church of God and was an avid fan of Auburn University. Lori was a loved by all and will be truly missed!
Her services will be held in the Charter Funeral Home Chapel. A visitation will be held Tuesday, February 15, 2022 from 6 pm to 8 pm. a Service will be held Wednesday, February 16, 2022 at 1 pm. Lori will be laid to rest in Macedonia Cemetery.