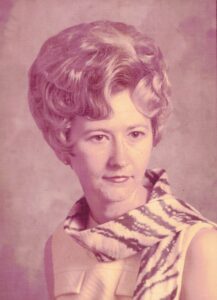 Judith "Judie" S. O'Neal, age 79, passed away Sunday July 25, 2021, surrounded by her loved ones. She was born on May 28, 1942, to John Jr. and Nell Stark.
Judie graduated East Jefferson High School, in Metairie, LA in 1960. She then went to school for 3 years at Southeastern University to major in Elementary Education. In 1975, Judie received a certification from ASCP for Medical Technologist. She also had a degree in Graphic Design from St Pete, FL in 1995.
Her late husband Walter O'Neal was in the military where he served in the US Army and Air force, which allowed Judie to travel across the nation. She lived in Louisiana, Mississippi, Florida, Texas, Alabama, North Carolina, and Virginia. Judie worked for the US Government for 25 years as a Medical Technologist and computer programmer.
Her main hobbies in life were Crafts, Volleyball, hiking, painting, reading, traveling, but above all she loved to play softball. After retirement Judie was a stone crab fisherman on the Gulf of Mexico, where she was the only woman on the docks.
She is preceded in death by her husband, Walter A. O'Neal; daughter, Mary Ann O'Neal'; parents, John Jr. and Nell Stark; brother, John L. Stark III. Judie is survived by her son, Jeffrey L. O'Neal (Michelle); grandchildren, Amy Stephens Berry (Pretntis), Brian Stephens, Alexa O'Neal, Sidnie O'Neal, Parker O'Neal; great grandchildren, Wyatt Berry; brother, William Stark; sister, Janis Stark; and many cousins, nieces, nephews and friends.
There will be a funeral service Friday, August 6, 2021 in the Charter Funeral Home Chapel. Visitation will begin at 11 am followed by a service at 12 pm. Judie will be laid to rest in the Alabama National Cemetery at 1:15 pm