Jack Edward Kelley, "Kelly" "JE"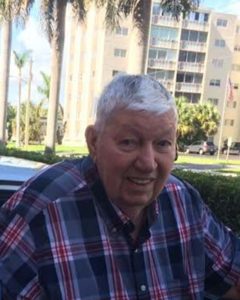 Jack Edward Kelley, "Kelly" "JE", age 89, of Pelham, AL, passed away Friday, February 10, 2017. He was one of the last World War II Veterans in Shelby County, proudly serving his country in the U. S. Navy. He was predeceased by his son, George Kelley; daughter, Bonnie Reynolds;  parents, George and Hallie Kelley and sister, Joann Gast.  His survivors include his wife of 44 years, Linda Kelley; daughters, Gerald Lynn Jared (Michael), Gayle Lovejoy, Kris Recalde (Jose), Patty Briscoe and B. J. Patterson; sons, Michael Kelley (Sandra) and Martin Kelley and numerous grandchildren, great grandchildren, great-great grandchildren and great-great-great grandchildren. A visitation will be 3-4,
Wednesday, February 15, 2017
with a Celebration of Kelly's Life with Navy Honors to follow at
4 pm
, 
Wednesday
at Charter Funeral Home. A Committal Service will be
2:45pm
,
Thursday, February 16, 2017
at the Alabama National Cemetery. In lieu of flowers, please consider a donation in his name to a charity of your choice or a domestic violence shelter such as Safe House of Shelby County.