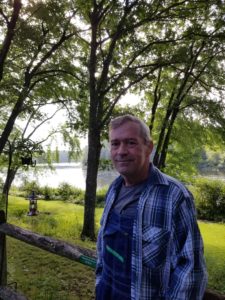 Gary Wayne Baribeau
March 24, 1961 – September 23, 2019
Gary Baribeau passed away peacefully, with his wife, Diane Baribeau, by his side, on September 23, 2019 at the age of 58.
Serviced will be held at St. Thomas Catholic Church in Montevallo, Alabama (Hwy 119) on Friday, September 27, 2019. Visitation will be held at 2pm followed by funeral services at 2:30pm. A reception will follow.
Gary was born March 24, 1961 in Brunswick Maine to Dennis and Janet Baribeau. The only son, Gary grew up with 5 sisters. Gary lived in Maine for most of his growing years, except from age 9-14 when his family moved to Prescott Arizona. After graduating for Mt. Ararat High School in 1979 he joined the Air Force and served for 20 years at various duty stations. After retiring as an E6 he worked for 11 more years in the same office "out of uniform".
Gary leaves behind his wife, whom he met in their senior year of high school. God and Facebook re-connected the two in 2010 and they were married on 7/7/2014. Gary's love for the outdoors was known by all who knew him. He was an avid fisherman and always found peace by rivers, streams, and oceans. In the summer of 2013 Gary began building a summer cabin on Parker Pond in Maine. He spent 3 summers building the beautiful cabin, hoping to spend many summers enjoying it with Diane and his many grandkids. He always felt a special connection to his home in Maine but the end of the summer in 2013 he moved to Alabama to be close to Diane. However, he always remained a loyal Patriots and Red Sox fan. Gary Also loved reading and history. The History Chanel, ESPN, or American Pickers could always be forum on his TV. He also began perusing a business degree for the University of Montevallo in the fall of 2013. One of Gary's favorite things was simply being "Grampy" to his grandkids. In June 2018 the lives of Gary and his family were changed forever with his diagnosis of stage 4 esophageal cancer. Gary fought a good fight until his last breath. He died peacefully and is resting in God's Home.
Gary is preceded in death by his father, Dennis Baribeau, Uncle Wayne and Aunt Connie.
Gary is survived by his wife Diane; his mother, Janet Baribeau; sisters, Deborah Achey (Clayton) Jackman, Maine, Lori Graffam Topsham, Maine, Joyce Baribeau Pellietier Bath Maine, and Joanie Parent, Brunswick Maine and Denice Sharpe (Matt) East Harpswell Maine. His Children Amy Morris, Heidi Baribeau, Chelsea Baribeau, Dennis Baribeau, and Monika Baribeau. He also leaves behind 4 step-daughters, Amanda (Jovan), Jennifer (Brian), Stephanie and Nicole (Antonio). 10 Grandchildren, Logan, Savannah, Allie Rose, Shane, Rylan, Tyler, Kaylie, Mallory, Santiago, and Adalyn. Gary leaves behind uncles, Gordan (Judy) and David (Maggie) and aunts, Patricia and Ann. He is also survived by numerous cousins, nieces, nephews, and of course his beloved dog, Pete.
Gary will be laid to rest in the VA cemetery in Augusta Maine.