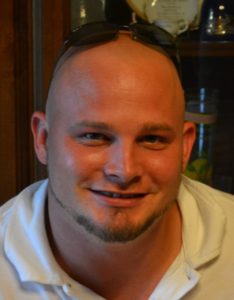 Dustin Mitchell Pierce, age 38, born on January 1, 1981, was reunited with his dad & best friend on July 5, 2019.  He is preceded in death by his dad, Clayton Mitchell Pierce; grandparents, Clayton (Ben) Pierce, Carolyn B. Pierce & Grady L. Luster, Sr.  He leaves behind the love of his life, Tricia McKee Pierce; daughter, Makinzie Lei McKee; step-daughter, Makayla Huffstutler; mom, Donna Luster Pierce Barnes (Tom); sister, Holly Pierce Webb (Adam); niece, Kaytlin R. Webb; grandmother, Aline Luster; and numerous aunts, uncles & cousins.  He was a 4th generation hardwood flooring craftsman for Pierce Flooring and was extremely talented.  Visitation will be on Tuesday, July 9, 2019 from 5:00 – 7:00 p.m., followed immediately at 7:00 p.m. by a Celebration of Life, both held in the chapel of Charter Funeral Home.  The family respectfully requests that no one wears black.
He was loved by many & will be missed by all.
In lieu of flowers, please donate to:
The Fellowship House (drug rehabilitation center)
1625 12th Ave S.
Birmingham, AL 35205
(205) 933-2430
or the drug rehabilitation of your choice.