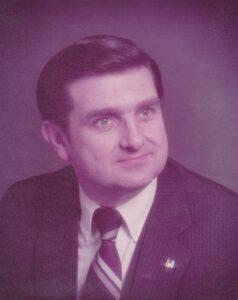 Dec. 7, 1940 – Jan. 27, 2022
David E. Berney, Sr., born December 7, 1940, in Birmingham, AL, was called to his Heavenly Home in the early morning hours of Thursday, January 27, 2022 at the age of 81. Preceding David in death were: his parents, A.E. "Gene" and Margaret Reese Berney, his son, David E. "DJ" Berney, Jr., and a younger brother, L. Neal Berney. David was the eldest of 4 boys and 2nd of 5 children.
David grew up in Montgomery, AL, where his father, Gene Berney, was District typewriter sales manager for the Remington-Rand Corporation. In 1957, his father was promoted and the family moved to Memphis, Tn. It was here, that David graduated from White Station High School in 1959 with honors in sports, singing, leadership and scholastics. All of these high school honors were instrumental in David being named as one of the top 100 freshmen entering Texas A&M University during the Fall of 1959 where he studied Forestry. Through a serious bout of Poison Ivy, he was advised to change his major and transferred to Sam Houston State University for his sophomore year in business administration where he earned the distinction as the top student in his class.
In 1961, the business world took the Berney family to Atlanta, GA, where David transferred to Emory University to continue his business education, where he also worked as a full-time employee in the Univac Computer-Center. In December of 1962, David and his family returned to their home city of Montgomery, Alabama, where they bought out the Remington-Rand district sales office and renamed the business to Berney's Office Machines. David won national recognition for outstanding sales achievement as an office machines dealer.
As a member of the National Office Machines Dealers Association (NOMDA), he served on the National Board of Directors, the National Board of Regents, and as Secretary, Vice-President, and President of the NOMDA-Southeast Region. He also served as a state officer for the Alabama Jaycees and Kiwanis International, and was named to the Marquis Who's Who in the South/Southwest for the year 1980/81 for outstanding achievements in the field of business.
In 1982, he incorporated their new bank equipment division as Berney Financial Systems, Inc. In 1985, he moved this division to Birmingham, the banking and financial hub of Alabama. After retiring from the business world in 2008, he was able to enjoy his hobbies of singing, public speaking, woodworking, reading, fishing, as well as traveling with his family. He enjoyed helping others and loved to see them succeed in life. He loved life and most importantly, he loved his Father in Heaven and Savior, Jesus Christ. He was loved by everyone who knew him and will be deeply missed.
He is survived by his loving and caring wife of 58 years, Joyce Carrigan Berney, his daughter, Michelle Renee Berney and his little fur baby, Bear, who just adored his human daddy; one sister, Norma Berney Lundy and her two children, Leisl Lundy Larson and Kyle Lundy (Whitney); brother, Fred Berney; sister-in-law, Diane Sellers Berney and her two children, Morgan Berney Black (Robert), John Tyler Berney (Kristin) and a step-son, Chadson Berney (Meghan); brother, Daniel Berney (Lisa) and his children, Katy Berney Tuttle (Jimmy) and Avery Berney, as well as many great-nieces, great-nephews and cousins.
He was a faithful member of The Church of Jesus Christ of Latter-Day Saints for 46 years, where he held many callings over the years. A visitation will be held on Friday, February 4, 2022 from 11:00 a.m. – 12:00 p.m., with a funeral service to follow immediately at 12:00 p.m., both at the Church of Jesus Christ of Latter Day Saints, 2720 Cahaba Valley Rd, Pelham, AL 35124. Burial will be in Southern Heritage Cemetery.
Pallbearers: Greg Brown, Mike Grantham, Brad Hardisty, Eddie Daurelle, Jeff Hay, Scott Kirby
Due to COVID19, it is recommended that masks be worn and social distancing be remembered. If anyone has a health risk, you might wish to view the service through live-streaming. https://www.youtube.com/channel/UCV010mXr_EJYNV8PhlG6kBA/live