Raymond Samuel Elliott, Jr.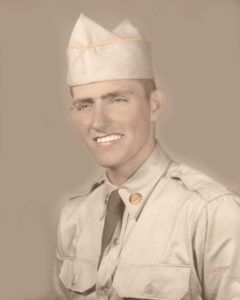 Raymond Samuel Elliott, Jr., age 85, of Montevallo, Alabama, beloved spouse, father, grandfather, uncle and friend, passed away on Thursday, November 10, 2016, at his home, surrounded by his family. He was preceded in death by his father, Raymond Samuel Elliott, Sr., his mother Margaret Adams Elliott Decker, and his siblings: Harold Elliott, Anna Mae Walton and Doug Decker. 
Born in Burlington, New Jersey, he was a quiet and good natured man. He loved to sing old time gospel music and was known for his sense of humor and his love of family, church, and country. As a teenager, he moved with his family to Alabaster, Alabama, where he graduated from Thompson High School, class of 1948. 
He served in the US Army during the Korean Conflict. Stationed in Germany, his rank was CPL, with the 63rd Tank Battalion. Throughout his life, he continued in his support of the veterans of his country. 
A retired electrician, he worked at Hayes Aircraft, Segco Mining and Drummond Mining – Mary Lee #1. He served as Secretary Treasurer of the Local Mine Union, District 20. 
Active in the church, during the 1970s and 80s, he served as Church Treasurer, Teen 

Sunday

 School Teacher and Song Director at Bethel Free-Will Baptist Church, in Pea Ridge. He later served as Usher at Kingwood Church, in Alabaster. 
He is survived by his wife of nearly 60 years, Billie Pickett Elliott; their two children Roxanne Elliott Ponder (Mike) and Lisa Kay Elliott Boothe; six grandchildren: Jayson Heath (Cori), Colby Heath (Kristin), Drew Heath (Jennifer), Candace Marshall (Kory), Lindsey Laney (Chase) and Dylan Boothe; nine great grandchildren: Makae Heath, Ella Rose Heath, Jaida Heath, Jaxon Heath, Jacob Heath, Cooper  Marshall, Riley Laney, Ansley Rose Laney and Scarlett Marshall; numerous nieces and nephews and his brother Vincent Decker. The family will receive friends from, 6 to 8 P.M

.

, Friday,

 November 11, 2016

at Charter Funeral Home and Funeral Services will be Saturday, November 12, 2016 at 11 A.M. at the funeral home.
"The trail is still there." – Raymond Samuel Elliott, Jr.