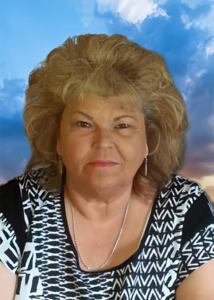 Brenda Sue Payne, age 70, passed way Saturday, August 13, 2022 in the comfort of her home in Ashville, AL. She was born in Keystone, AL on January 9, 1952 to her loving parents, Sidney E. Oliver and Betty (Carter) Hardemon and raised there. Later she lived on Carroll Street with her grandson, Allen, for 15 years, till moving to Ashville with her daughter, Candi. Brenda loved country cooking, shopping, sitting on the porch at her daughter's house, going to Silver Star Casino in Mississippi and she loved her family and friends. Her passion were her grandkids and great-grandkids, she loved to take care of them especially her great-granddaughter, Carlee. Brenda is preceded in death by her loving husband, Algie Dit Payne; stepsons, Kenny Payne and Eddie Payne; grandson, Shane Payne; brother, Stanley Oliver; and her parents, Sidney E. Oliver and Betty (Carter) Hardemon.
She is survived by her daughter, Candida Slaten (James); step- daughter, Sylvia Payne (Gail); grandchildren, Allen Kelly (Crystal), Chris Kelly, Rachel Payne (Barney) and Megan Elrod (TJ); great-grandchildren, Adam Kelly, David Kelly, Jayce Ransfer, Carlee Kelly, Emmalee Elrod, Dakota Payne, Trey Smith, Skylar Payne and Nolan Payne; great-great-grandchild, Bexley Smith; brothers, Bill Oliver and Ronald Oliver (Sabrina); and sister, Linda Leader.
A Celebration of Life will be held Wednesday August 17, 2022 in the Charter Funeral Home Chapel. Visitation will be held from 6 p.m. to 7 p.m. followed by a service at 7 p.m.