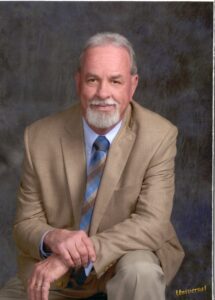 Wesley Dean Charles, age 70, of Maylene, Alabama, passed away peacefully at his home surrounded by his family, on Monday, February 7, 2022. Born January 27, 1952 in Pikeville, Kentucky, he was the son of the late Jesse Charles and Belva Goff Charles. His family moved to Buchanan County Virginia when Dean was five years old. He was a graduate of Grundy High School and East Tennessee State University. Afterwards, Dean began selling drilling supplies for the mining industry and was transferred to Alabama in 1978. He and his family resided in Maylene until his passing. He dedicated many years coaching his two sons in youth baseball and working with the Dixie Youth program. He was an avid outdoorsman who enjoyed deer hunting. Dean was an active member of Alabaster First United Methodist Church, where he served as chair of the Board of Trustees for the past three years. He had a passion for helping and serving others. He never hesitated to travel long distances to help with disaster relief. For several years he worked with Cutters for Christ, a disaster response ministry.
Dean was preceded in death by two sisters, Pat Ritchie Skaggs and June Ramey and one brother, Wayne Ed Charles. Survivors include his loving wife of fifty years, Jennifer Ratliff Charles; sons Wesley Charles of Honolulu Hawaii and Jesse Charles of Maylene, Alabama; brother Jimmy "Buck" Charles and wife Phyllis of Bland, Virginia, and sister-in-law Sandra Charles of Vansant, Virginia; mother-in- law Grace Addison Ratliff of Oakwood, Virginia; sister-in-law Sherri Ratliff Dawson of Abingdon, Virginia; brother-in-law Chris Ratliff and wife Lisa of Oakwood, Virginia; brother-in-law Charles (Chuck) Ratliff and wife Veronica of Oakwood, Virginia and many nieces and nephews. He loved people and was always willing to help any friend or stranger in need. His heart and smile will live on with those whose lives he has touched.
Dean's funeral service will be conducted at 1:00 at Alabaster First United Methodist Church in Alabaster, Alabama, Friday, February 11, 2022 with Reverends Arthur Harrison and Reid Turner officiating. The family will receive visitors from 12:00-1:00 prior to the service at the church. In lieu of flowers, the family requests memorial contributions be directed to Alabaster First United Methodist Church 10903 Highway 119, Alabaster, AL 35007.