Vivian Theresa (Terry) Mattson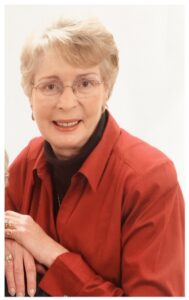 Vivian Theresa (Terry) Mattson
Terry Mattson, 81, died November 12, 2020 at her home in Calera, Al.
Terry was a clinical therapist who specialized in child and family counseling.   She was the co-founder of the first Children's Advocacy Center in Huntsville, Alabama (which has now been established nationwide).  After retirement, she loved traveling worldwide and working as a cast member at Disney World's Animal Kingdom for four years.
Terry was a proud member of the Daughters of the American Revolution.  She was an accomplished pianist and organist.  She enjoyed quilting, sewing, gardening, music, and history.  Terry loved every moment with each of her grandchildren.
Terry was born February 6, 1939 in Latrobe, PA.  She was preceded in death by her parents, John M Cusick and Vivian A. Hauger; and her sister Marsha Chambers. Terry is survived by her husband Robert J. Mattson, married January 1,1984 and her sisters Mary Helen LaGreca (John), Johanna Beall (Jack), Jacquelyn Cusick; and her first husband Robert McGraw. She is also survived by her daughters Dianna Colligan (Robert), Mary Scales (Kelly), Aniko Snyder (Darin) and her sons Eugene McGraw (Janeth), Timothy McGraw (Gisele), Patrick McGraw (Kathyrn), Robert A. Mattson; and grandchildren Laura, Ethan, Emily, Maximillian, Hayden, Lauren, Saoirse, Oliver and Julian.
A graveside service will be held on Monday November 16th 10:15 at the Alabama National Cemetery.