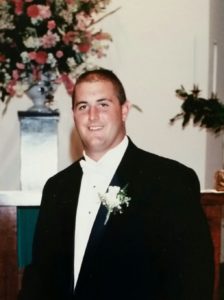 Thomas "Craig" Knight, age 42, of Helena, AL, passed  away Wednesday, August 10, 2016.   Craig was predeceased by his brother, Phillip Knight.  He was a former Birmingham Police Officer and City of Helena Police Officer.  Most recently he was a truck driver for Transport America.   His survivors include his wife of 18 years, Shaun Knight; sons, Taylor and Tucker Knight;  daughter, Piper Knight; mother, Mary Knight; father, Tommy Knight; sisters-in-law, Kelly McCown, Meghan Collum (Cade) and Stacie Aldridge (Kenny) and a host of nieces, nephews and other family members.  The family will receive friends,
5-6 p.m.
,
Sunday, August 14, 2016
at Riverside Baptist Church in Helena, AL with a Celebration of Craig's Life following at
6 p.m.
at the church.