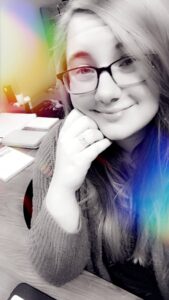 Our beloved Morgan Beth Bell, née Heumann, died unexpectedly of medical issues on August 22, 2021 in Birmingham, AL at the age of 26.
Morgan is survived by her husband, Adam Bell of Calera, AL; fur babies, Toby, Atticus, & Buffy; grandmother, Elaine Heumann of Prattville, AL; father, Ken Heumann & stepmother Amanda of Montgomery, AL; brother, Kenny Heumann of Montgomery, AL; grandmothers, Debbie Thomas of Montgomery, AL and Tracy Thomas of Shreveport, LA; parents-in-law, David & Elaine Bell of Alabaster, AL; brothers-in-law, Matthew & his wife Ashley of Alabaster, AL, Andrew Bell & sister-in-law Amy of Calera, AL, Timothy Bell of Huntsville, AL; great aunts, Lynn Jackson of Starkville, MS, Beth & her husband Terry Stoehner of Chesterfield, MO; great uncle, Bill McKenna & his wife Jane of Gray Summit, MO; aunt, Kim Manley of Prattville AL; uncle Scott Thomas; nieces, Alice, Esther, & Deborah Bell; cousin, Myra Manley, Matt, Destiny, Kirsten, & Emma Grace Thomas; numerous other family and dear friends.  Her great grandmother, Ellie Heumann of Washington, MO and her grandfathers, Ken Heumann of Montgomery, AL, and John Thomas of Shreveport, LA, precede her in death.
Morgan was born on March 30, 1995 in Montgomery, AL, to Ken Heumann.  She graduated from The Montgomery Academy in 2013 and then graduated from University of Montevallo in 2017 with a degree in Business Management, and a Masters of Business Administration the following year.  She made many friends, like Haley, in her "Purple Family."  She loved her Delta Gamma sisters, Miriam, Katie, Emilee & others, at Montevallo.  With her ready smile and easy-going nature, Morgan made more friends at her job at Panera Bread, including Adam.  The two quickly realized that they were soul mates, and they were married in a romantic outdoor ceremony on March 23, 2019 in Savannah, GA.  The couple settled in Calera, AL where Morgan began her career as an intern at Central Six AlabamaWorks, a non-profit that promotes vocational opportunities, moved into the role of Workforce Programs Coordinator, and was promoted to Manager.  Morgan worked with educators to provide a better understanding of opportunities in local industries through hosting the Educator Workforce Academy.  According to her boss and co-workers, Morgan was skilled at all things technology and design as seen in the webinars she was developing.  She was proud to serve as the Workforce Programs Specialist where she organized the company's largest event, "Worlds of Work" for high school students, which gave over 5,000 students the opportunity to explore careers.
Morgan and Adam enjoyed hosting hamburger cook-offs, playing games, and hanging out with their neighbors, Caleb & Brandi.  They also enjoyed hiking and camping in State Parks and the Smoky Mountains.  Morgan was a compassionate & loving individual who had a joy for life.  Her family and friends laughed at her impressions of movie characters.  Her imitation of Chewbacca's roar was awesome.  She loved Disney World and had an internship at Restaurantosaurus, which was located in her favorite Disney Park, Animal Kingdom.  Of course, she made new Disney friends of Bree and  Arionna to go on magical adventures through all the parks. Rapunzel from "Tangled," her favorite Disney princess, escaped from her tower with the aid of another to pursue her dream of exploring the outside world.  Like Rapunzel, Morgan had dreams for the future with the support of Adam.  She created a business plan to open a boutique bistro called "Elaine's on Main," named for her special Maw Maw.  She envisioned serving mini-casseroles and baked goods.  Her family knows the venture would have been a success.
Morgan's special light will live on in the memories of her family and friends as well as of the lives' of those she saved through the gift of organ donation.  The gift of life was Morgan's last act of love and compassion.
A visitation from 1-3pm, followed by a Celebration of Life service on August 28, 2021 at Autaugaville Baptist Church, 2502 AL-14W Autaugaville, AL 36003, with a reception to follow at a family's home. The family kindly and strongly requests that face masks be worn.
In lieu of flowers, please send your donation to one of the following charities in her memory: