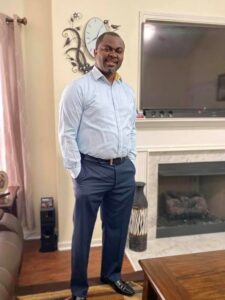 Biography of Michael Ikechi Godwin
Birth
Mr. Michael Ikechi Godwin was born on the 22nd of July 1972, to late Mr. Godwin Wenedah Onuegbu of Okporowo Ogbakiri and Mrs. Victoria Chimela Onuegbu (nee Asuru) of Rumuoro Ogbakiri, all in Emohua local government area of Rivers State, Nigeria. He was the second son and the 4th child of seven children.
Education
He attended Rebisi Primary State School One Port-Harcourt, from 1978-1984 where he obtained his first school leaving certificate and from 1985-1990, he obtained his (SSCE) from Baptist High School Port-Harcourt. He proceeded to the University of Port-Harcourt for his University Degree, from where he obtained B.Sc. in management from the faculty of Management Sciences between 1994-2000 after witnessing a long ASUU strike.
Working life
Baba Iyke as we fondly call him started his work life as a businessman who supplies building materials and later moved to building of houses for his clients. He did not just stop there, as a man who likes to explore. having understood the benefit of owning a property, he went into land agency and helped most of his clients acquire landed property at an affordable price, of which his relations were not left out. Based on his product and vast experience about management, his late uncle professor. B.A. Onuegbu appointed him as his personal aid in 2006-2007 when he was the chairman of Rison Palm Oil, a Rivers State owned palm oil production company. Baba Iyke later won an American lottery and decided to relocate with his family in late 2007 to continue his pursuit for a greater opportunity. While in the USA he worked with Glenwood Inc. 2008-2012 as a Residential Instructor. He later joined Brookwood Medical Center and occupied the position of mental health associate. As a known businessman he never left his business life even as he worked. Baba Iyke was still exporting goods to Nigeria from USA.
Marital life
Ikechi as some will call him was married to Mrs. Deborah Foluke Ikechi Godwin (nee Dahunsi) of Yoruba decent, Boripe local government of Osun State precisely and their marriage was blessed with two sons. Joshua and Michael Godwin.
Social life
Baba Iyke was a very sociable person. He was a man with so much fun; you will never find a dull moment with him. Ikechi will always run to assist anyone who beacons on him. A loving father that will always pay attention to the needs of his family, none has ever gone to Ikechi and left empty handed. He was a game changer and master planner, once he gets involved in a plan it takes a different tune and must be achieved. A rear gem with so many parts, he will be greatly missed by his friends, as he will always let them know of his arrival and must make sure they hangout to talk about the past.
Christian life
Late Michael Godwin was a devoted Christian who started his Christian life with Anglican Communion in Okporowo Ogbakiri where he was Baptized. He has helped to build other Pentecostal churches he attended before relocating to USA. Upon relocation to USA he started worshiping with Christian Life church where he equally contributed immensely to Christendom until his death.
He is survived by an aged mother, wife, children, brothers, sisters, uncles, aunties, nephew, nieces, and cousins. He shall be sadly missed by all. May his gentle soul rest in the bosom of the almighty Lord, Amen.