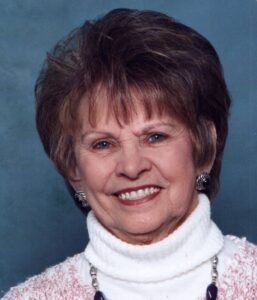 Lou Ella Burdett Moody, age 86, of Alabaster, passed away Monday, August 15, 2022. She was born on October 2, 1935 in Bibb County. Lou Ella is preceded by her husband of 19 years, Jerry Neil Moody; parents, William Burdett and Bertha Hamaker Burdett; grandson, Shane Moody; great-granddaughter, Olivia Rae; sisters, Shelvie Jean Burdett and Ada Burdett Hudson. Lou is survived by her son, Neil Moody (Cathy) ; daughter, Luanne Stratton (Scotty); six grandchildren, thirteen great-grandchildren; sister, Joyce Grill; brothers, Doyle Burdett (Brenda) of Pea Ridge, Ed Burdett (Patt) of Chelsea, and Kenith Burdett (Ginger) of Andalusia; sister-in-laws, Sue Fowler and Peggy Moody; and a host of nieces and nephews.
Lou Ella always had a big smile on her face. She loved her family dearly and was a huge fan of Southern gospel music. She was a member of Wildwood Chapel where she enjoyed singing
 A Celebration of life will be held on Saturday, August 20, 2022, in the Charter Funeral Home Chapel. A visitation will begin at 11:30 am followed by a service at 12:00 noon. Scott Fowler and Pastor Mack Ritch will be officiating. A special thank you to Expect Care Hospice who helped make her final days comfortable and peaceful.