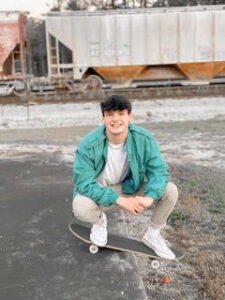 Konner Michael Thrower, age 18, passed away Tuesday, June 15, 2021. He was born in Victoria, TX, January 21, 2003 to Martha Diane and Don Mitchell Thrower, Jr. Konner lived and loved without abandon.  He was tenderhearted to those who struggled, and worked tirelessly to make sure everyone felt included. He made sure our home was always filled with laughter, music, and silly dance moves.  He was a gifted musician, athlete, and artist – he was truly humble about the abilities the Lord blessed him with.  Konner was a special young man who made fast friends everywhere he went, but his closest and truest friends were his siblings.  #BigPoppaK Psalm 30: 11-12
Konner is survived by his parents, Mitch and Diane Thrower; brother, Kyle Mitchell Thrower (Melissa Tiller) of Pontiac, MI; sisters, Kennedy Michelle Thrower of Montevallo, AL, Kate Madison Thrower of Ponchatoula, LA, and Karsyn McKenna Thrower of Montevallo, AL; grandparents, Martha Henneke of Bessemer, AL, Bob Henneke of Corpus Christie, TX, and Brenda Thrower of Delhi, LA; uncles, John A. Kelly of Dallas, TX, Joel A. Henneke (Leigh Ann) of McCalla, AL, James A Henneke (Shannon) of Carrolton, TX, and M. David Henneke (K.C.) of Kingwood, TX; Aunt Christie Hosea (Kevin) of Delhi, LA; and a host of Cousins and Friends.
There will be a Celebration of Life held at Indian Springs First Baptist Church, Saturday, June 19, 2021 (3375 Cahaba Valley Rd, Indian Springs Village, AL 35124). Visitation will be held at 10 am Followed by a service at 11 am.  In lieu of flowers please feel free to give toward http://campfuego.com/give and notate that it is to support the Konner Thrower Scholarship.