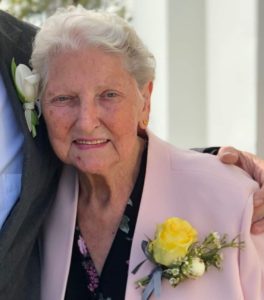 Hildred Cross Swann, 78 a lifelong resident of Cahaba Valley was called home by the Good Lord on Thursday, June 27th 2019 following a brief illness.
 Hildred was born July 17th 1940 to the late Gordon and Thelma (Ashworth) Cross.She was a proud homemaker and a loving mother to her four children. She loved to travel, having visited all 50 states in her lifetime. Her love of travel was only exceeded by her love for her home and family. She was an accomplished gardener and never failed to send visitors home without a beautiful bouquet.  Her generosity and loving spirit was well known and much appreciated by all who had the honor to know her.
 Preceding her in death were her devoted husband William (Bill) Swann, her sons Anthony and Mark and her precious grandson Andrew Smith.
 She was the beloved mother of Shelia (Gil) Sines, Shelaine (Chris) Swann-Partain, Scott (Heather) Swann and Susan (James) Swann-Schaible. Much loved Grandmother of Amber Casey, Matthew Startley, Adam Collar, Shannon Startley and Ethan Swann. Proud Great-Grandmother of  Xander, Piper, Zane and Tyler.
 She was lovingly supported in her later years by her cherished son Scott. His sisters would like to acknowledge and thank him for his dedication and devotion to her and family. Also, the family would like to extend our sincerest gratitude to the staff of the Neuro ICU of Grandview Hospital for their loving kindness and care during her final days.
According to her wishes there will be no services