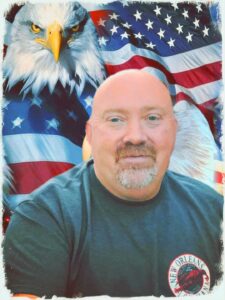 H. Alan Martin, age 49, passed away Thursday, August 19, 2021 surrounded by his loved ones. He was born in Lincoln, Al on December 17, 1971 to Henry B and Evelyn Martin.
Alan graduated from Lincoln High School and worked for 30 years in Telecommunications. Alan married Amanda Parker April 25, 1998 and currently resides in Montevallo, Al. He had a passion for Auburn Football, grilling, traveling, working, and he was always up for trying new restaurants no matter how far away they were. Alan served in the US Navy and loved his country dearly but above all, he loved his family and his LORD.
He is preceded in death by his parents, Henry B and Evelyn Martin; and sister, Sharon Martin. Alan is survived by his loving wife of 23 years, Amanda Martin; son, Dylan; daughters, Hannah (Andrew) and Isabella; very best friends, Pete and Wendy Nordquist; siblings Marie Manning (David), Steve Martin (Valerie), Debbie Mathis (Steve), Tony Martin, Sherry Rickles (Kevin) and Chad Vice (Katherine); and tons of nieces and nephews and great nieces and nephews.
There will be a Celebration of life held Monday, August 23, 2021 held in the Charter Funeral Home Chapel. A visitation will begin at 2 pm followed by a service at 3 pm. Alan will be placed in the Alabama National Cemetery at a later date.