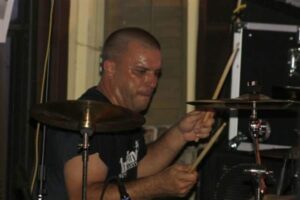 Family and friends:
Greg was born on August 3, 1968 in Wheeler, Texas. He is the middle child of Mr. and Mrs. Ronald A. Clayton of Hamilton, Alabama. He is a 1986 graduate of Georgia Christian High School. He is survived by his parents, mentioned above, his wife, Cynthia, three children: Sammy, Grant and Madelyn and a grandson Silas; and two brothers: Myself (Jeff) and Kyle. He was a devout father, husband, son, brother and friend. By trade Greg fabricated steel. I would visit him at his work from time to time, always fascinated with his abilities. Greg would cut a random shape out of a piece of steel, then give to me as a way to remember each visit. These small gifts are now treasures to be cherished for years to come.
The full measure of a person must be derived from the totality of their life. Greg lived a beautiful life. A life made so by his character. When thinking of Greg, we can be reminded of his clear and consistent honesty. He was one of the most forthright persons I have known. As well as this, Greg possessed a boundless charity, an affable kindness and a sincere love of others which guided his life. He would literally, and without reservation, give a complete stranger, the last dime in his pocket. Cyndi, as well as many of us, witnessed his generosity often. One time they were visiting downtown Birmingham, Greg found himself talking with a homeless person for several minutes. After hugs and tears, Greg reached into his pocket and handed the man all his cash. Greg told the man to go get a hotel so he could get off the street and out of the cold for at least a couple of nights. This is the Greg we shall remember.
There was nothing he loved more than his family and friends. As our brother Kyle recently wrote, Greg knew no strangers -only friends. To know him was to love him in so many ways. He was our friend, our brother, we shall mourn his passing, but delight in the beauty of life he gave to others. "Hold da white one webel, my friend. Hold da white one webel." If you do not know that story, just ask me sometime. I will share the story and as with any "Greg story", you will have a chuckle.
With this said, a good way to honor and remember our Greg's life is to ask you: his friends and family, to offer their thoughts, feelings and remembrances of him here. Please share whatever you find in your heart. We hope you will join us next summer, date to be announced later, for a celebration of life, to honor our Greg. RIP Gregory Allen Clayton
Much love to all,
Jeff