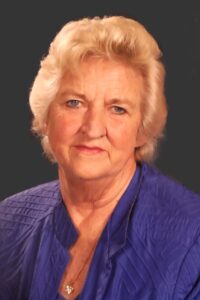 Edna "Sue" Lucas DeBoer was born in Jemison, Alabama on May 25th, 1936, and died on October 6th, 2020. She was preceded in death by her father, Clyde William Lucas; mother, Lesta Cobb Lucas; sister, Ann Lucas Walker; nephew, Charles Phillip Walker, Jr.; and, her beloved special daughter, Sue Ann DeBoer. She is survived by her loving husband of 62 years, Larry Peter DeBoer, Sr.; daughter, Tammy DeBoer Rowe; son, Larry Peter DeBoer, Jr. (Carol); son, James Joppe DeBoer, Sr. (Debi); niece, Wendy Walker Beech (Chuck); grandchildren: Rebecca Coston Rowe, (fiance' James Byrd), Clay Coston Rowe, Jr. (Margaret Jane), Stephen Peter Rowe (Addison), Charles David Mercer Rowe (Mary Evelyn), Dylan Peter DeBoer (Alecia), Kathryn Grace DeBoer, Lindi Makael DeBoer,  Lani Brooke DeBoer, James Joppe DeBoer, Jr., and great-grandson, Henry Clay Coston Rowe.
Sue's early life was spent in central Alabama with her mother, Lesta Cobb Lucas, and her only sibling, Ann Lucas Walker. She graduated from Phillips High School in Birmingham. She earned her registered nursing degree at Carraway Methodist Hospital's nursing school. Sue married Larry in 1958 and moved to New York City.  They later lived in New Jersey and finally returned to Alabama in 1969,   where they lived in Indian Springs Village for the past 52 years.
Sue is known for many things by many people, but she would most want to be remembered for a cause close to her heart – pioneering education rights for the mentally challenged. She spent many years working to improve opportunities for those with Down Syndrome and other mentally challenging disabilities, which led to legislation providing them with equal education opportunities- a groundbreaking idea in a mostly rural community at the time. This work brought organizations, such as the Association for Retarded Citizens (ARC) and the Special Olympics, to Shelby County, empowering and supporting those families and individuals who once were easily overlooked. At the core of this ambition was her special Down Syndrome daughter, Sue Ann, who sparked and propelled her passion that has impacted generations and will continue to pave the way for these treasures of society.
Her passion and hospitality extended to everyone she knew, no matter their background or social standing. Known for her home cooking, welcoming demeanor, and large holiday get-togethers with family and their friends. Sue will be especially missed as 2020 comes to a close. She will be remembered with love and cherished with happy memories of a life well-lived.
Sue's visitation is scheduled for Friday, October 9th, 10:00 AM at New Hope Cumberland Presbyterian Church, 5521 Double Oak Lane, Birmingham, Alabama 35242. Visitation followed immediately by a memorial service at 11:00 AM.
 Pall-bearers will include her grandsons (Coston Rowe, Stephen Peter Rowe, Dylan DeBoer, Charley Rowe, and Joppe DeBoer), her great-nephews (Phil Walker and Lucas Beech), and her grandson-in-law (James Byrd).
In lieu of flowers please send donations in honor of Sue DeBoer: New Hope Cumberland Presbyterian Church, ARC, Special Olympics of Alabama or 1st Priority of Alabama.