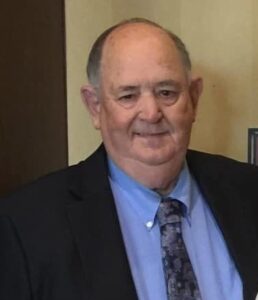 Bennett West Niven, 79, of Montevallo passed away, Tuesday, February 8th at 1:24 am.   Benny was born in a small dog trot house in The Kingdom, a community outside of Columbiana to Lloyd and Irene Niven.   He grew up in the Four Mile Community and attended Shelby County High School.   As a young man he loved going off with his dog Shine in the woods to hunt.  He spent most of his career working for Brungart Equipment Company where he worked his way up as a mechanic, truck driver, salesman, parts manager and finally branch manager.  He was a member of Enon Baptist Church where he was an ordained deacon and sang in the choir.  Benny loved playing sports, especially baseball, and later in life golf.    He loved cooking for others.  His family knew him as "the best pancake maker in the world".   He loved spending time with his dogs Jackson and Sully, as they were his constant companions.  He never met a stranger.  He always had a smile on his face and a hug or handshake for everyone.  Everyone that knew him loved him.
Benny was preceded in death by his parents Walter Lloyd Niven and Ellen Irene Mason Niven, brother, James Walter Niven, and sister Katie Niven Sandlin.   He is survived by his wife, Agnes Morgan Niven, two daughters Tena Niven and Kim Niven Bryant, sister Clara Niven Lewis (Paul),granddaughters Gabby Brandenberg Knowles (Will) and Katelyn Brandenberg, and numerous nieces and nephews.
There will be a visitation will be held at Enon Baptist Church, Thursday, February 10, 2022 from 6 pm to 8 pm. A service will be held Friday, February 11, 2022 at 2:30 pm, he will lie in state an hour before services. Benny will be laid to rest in Enon Cemetery. Bro. Bill Trawick and Bro. Todd Burr will be officiating.
Pallbearers: Russell Sandlin, Paul Lewis, Jr., David Epperson, Miguel Chavez, Brian Brandenberg, Will Knowles, Mike Mitchell, Jerry Morgan
Honorary Pallbearers: Albert Pruitt, , Roger Wheeler, Larry Wheeler, Jimmy Thrasher, Buddy Cox, Larry Pickett, Phillip Cristwell
In Lieu of flowers please donate to MHS Girls Athletics c/o Montevallo High School 980 Oak St. Montevallo, Al 35115.