Barbara Joyce Maso Shinpaugh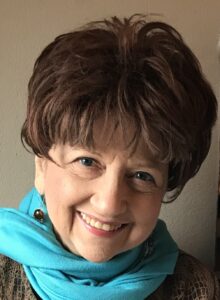 Barbara Joyce Maso Shinpaugh, age 78, humanitarian, caregiver, and educator, peacefully
passed away on Wednesday, April 1, 2020. She was surrounded by her devoted husband of 59
years, Robert Shinpaugh, and her loving daughters, Letitia Bonthron, Michelle Denney, and
Heather Shinpaugh.
Barbara was born in Chicago, Illinois, on December 10, 1941. She earned a Bachelor's
Degree from Southern Illinois University (SIU) in Carbondale and considered herself a lifelong
learner. She met her husband at SIU when they performed in a talent show together – Barbara
as a vocalist under the stage name Liz Collins, Robert as a drummer – and they went on to form
the Liz Collins Trio Plus One and perform at events both on and off campus.
She was very proud to be an Air Force Officer's Wife for 22 years. She provided a home
away from home for young enlisted men and women and was very active in the Officer's Wives
Club. As part of an Air Force family, she lived in many places and developed numerous
friendships all around the world. Barbara was always determined to live her life to the fullest
and loved to travel. She created lasting memories with her children and grandchildren by
achieving her goal of taking them to London when they each turned 13. She also fulfilled a
lifelong dream of visiting Israel with her husband to connect with her Jewish heritage. More
recently, she took her granddaughters all around Italy in 2018 and cruised through the Panama
Canal with Robert in 2019.
Barbara powerfully impacted countless lives through her dedication to serving as a Life-
Time Volunteer for hospitals, schools, community theaters, libraries, and many civic and
charitable organizations. She was instrumental in beginning the Hospice organization in
Montgomery, served as Volunteer Coordinator for the UAB Hospice program, and was a
member of the Council of Hospice Professionals. As a very active member of the Cahaba Valley
Elks Lodge, she was especially dedicated to serving the needs of homeless veterans and dialysis
centers. She developed strong bonds with her Emblem sisters through her commitment to the
Decatur Emblem Club. Among her many local, state, and national roles, she served two years
as Exalted Ruler of the Cahaba Valley Elks Lodge and was President of the Decatur Emblem
Club. She had a passion for photography and was the official photographer for the Alabama Elks
State Association. She was a life member of Hadassah and the National Council of Jewish
Women, and played an active role in the Temple Beth Or Sisterhood in Montgomery, Alabama.
In addition to her husband and daughters, Barbara is survived by three grandchildren
whom she loved and adored, Seth Denney, Katie Denney, and Sydney Bonthron, her sons-in-law
Jeff Denney and Scott Bonthron, her son-by-choice Steve Alexander, and her grandkitties and
puppies Tika, Zoey, Merry, Pippin, Sophie, and Maggie. She was preceded in death by her
mother, Adelle Ray Territo, her father, Victor Maso, and her stepfather, Dominic Territo. She
also had many, many loving friends across the nation whom she considered family-by-choice.
All who knew Barbara recognized that her beautiful smile was a ray of sunshine in every
room. Her compassionate, generous soul brought comfort to anyone who was in need. Her
warm, caring heart enveloped others with so much love.
A Celebration of Barbara's Life will be held at a later date (tentatively planned for
August 18, 2020, which would have been her and Robert's 60 th wedding anniversary). In lieu of
flowers, Barbara wished donations be made to any of the foundations she was so passionate
about, including the Elks National Foundation, the National Council of Jewish Women,
Hadassah, and the National Hospice Organization.