Teresa "Terri" Ellen Witt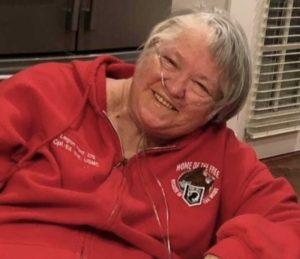 Teresa "Terri" Ellen Witt
Age 71, of Alabaster, AL formerly of Glen Burnie, MD peacefully entered into the loving arms of her Heavenly Father on July 20, 2018. Terri was born in Brooklyn, NY on September 3, 1946, to Ellen and David Duncan. Born the oldest of 7 children, she benefited from the travel and experiences of being raised in a military family. Terri spent her life faithfully and humbly serving our Lord. Whether inviting a homeless man to Thanksgiving dinner, providing someone with transportation to church or work, stopping to help a family in distress, or simply speaking words of affirmation and encouragement, she loved others as Christ loved her. She refused to hold a grudge, forgave others with quickness, sang praise in the midst of attack, and prayed scripture over every situation. Terri made it her life mission to bring joy to others and help them find peace by developing a relationship with Jesus. She lived her faith out daily, and while she did not have much in regards to material wealth, her legacy of service, love, and faith will leave those she ministered to richly blessed with an eternal inheritance.
Terri went out of her way to make life beautiful for others. As a wife, mother, grandmother, aunt, sister, and friend, she poured out love and showered those around her with joy. She welcomed people with open arms, a warm smile, and kind words. She loved her family wholeheartedly and longed for her loved ones to be at peace with each other. Her husband of 51 years experienced the full realm of her strength, loyalty, and love. She honored her marriage vows with unwavering determination and loved her husband unconditionally. Her children and grandchildren enjoyed that same love and found comfort in her understanding and acceptance. She delighted in buying unique gifts for her family and friends, and she managed to find ways to include a powerful meaning in even the most random of gifts. She loved others well and lived out the greatest commandment with beauty, grace, and faith.
An avid sports fan, Terri loved the Ravens and the Orioles and cheered them on with great fervor. She enjoyed rooting for her teams, keeping up with their stats, and arguing with anyone who discounted her teams' ability to win. She learned long ago that underdogs made the best stories and often discussed how God used them in powerful ways.
Believing that humor and gratitude cured any heartache, Terri counted her blessings daily, helped others see their blessings when hardship clouded their view, and she shared plenty of jokes, pranks, and TerriWitticisms to let laughter soothe the soul. Her family often joked about her self-proclaimed medical degree, but Terri did doctor those around her who were wounded, broken, helpless, and lonely, and rarely failed at prescribing the best medicine because love heals all things.
Terri is survived by her husband, Earl L. Witt, Jr. of Alabaster, AL; daughter, Michelle Marriott (Paul) of Alabaster, AL; son, Earl L. Witt, III (Carla) of Glen Burnie, MD; daughter, Sherri Spears (Daryl) of Chelsea, AL, grandsons, James Witcher of Alabaster, AL, Richard Witcher Jr. of Pelham, AL, Earl L. Witt, IV of Hanover, MD, Shane Witt of Hanover, MD, and Steven Spears; granddaughters, Rebecca Witcher of Baltimore MD, Patience Witt of Baltimore MD, Alexis Bennett (Ernie) of Glen Burnie, MD, Annika Spears of Chelsea, AL, Vivi Spears of Chelsea, AL, Emery Spears of Chelsea, AL and Jayde Marriott of Alabaster, AL; sisters, Sharon Wood of Caldwell, Idaho, Melanie Corey of Caldwell, Idaho, Debbie Thomas of Boise, Idaho ; brothers Pete Duncan of San Diego, California, Dennis Duncan of Parma, Idaho, and Steve Duncan of Nampa, Idaho; and a host of great-grandchildren, nieces, nephews, and friends. Terri was preceded in death by her father, David N. Duncan and her mother, Ellen Yates.
Funeral arrangements are entrusted to Charter Funeral Home in Calera, AL. A visitation will be held on Thursday, July 26th at 10:00 am with a funeral service beginning at 11:00; burial will follow at Alabama National Cemetery in Montevallo, AL.