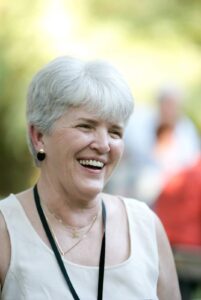 It is with our deepest sorrow that we announce the death of our beloved wife and mother, Media Landry, on December 5th, 2021. She is survived by her husband, Eno, four children, Yvette, Joel, Celena, and Dori, and their families.
Media laughed loud, loved well, and lived life to her fullest. She was born in the state of Louisiana and remained a Cajun at heart but loved to travel and visited almost every state in the United States. She was a skilled crafter, she crocheted blankets to keep us warm, repaired roughly-loved stuffed animals, and sewed wedding dresses. She loved to dance. She was a shining light in the world who never met a stranger. She was loved by everyone who knew her.
Please join us for a celebration of her life on Thursday, December 9th, 2021. Service at 5 pm, and have visitation until 6. A second celebration will be held for her family and friends in St. Martinville, Louisiana, at a later date to be determined.