Mattie Standifer Picklesimer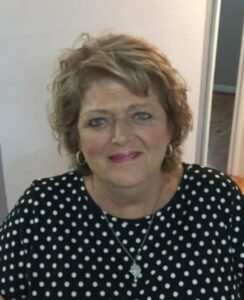 Mattie Standifer Picklesimer died at age 68, surrounded by her loving husband,  son, daughter-in- law, grandsons,  sisters, sister-in-law,  and nieces and a nephew on Valentine weekend, 2021.
The family was able to spend the last day, in and out of the hospital peacefully with Mattie.
Valentine morning her Son was there with her when she went to meet her Lord and Savior, Jesus Christ.
Mattie was preceded, in death, by her Mother and Father Dan and Connie Standifer, of Alabaster, Al.
Mattie was born on September 23, 1952, in Queens New York to parents Connie and Dan Standifer, who moved to Alabaster, Alabama, when Mattie was 4 years old.
She was a graduate of Thompson High School, Siluria/Alabaster, Alabama, where she was an outstanding Art Student and was a member of the THS Marching, Concert and Jazz Bands.
Mattie met her sweetheart, Alan Picklesimer, in high school as they shared their love of music in the band.
Alan and Mattie were married soon after graduation.  They have one son, Jason Picklesimer, a daughter-in-law, Anna Picklesimer, and 2 Grandsons, Garrett and Wyatt Picklesimer.
 Mattie's pride and Joy are her grandsons and a host of nieces and nephews that love her dearly.
Her family and friends will always remember her as a witty, kind, compassionate, easy to love person, who gave unconditionally.
She is survived by her husband, Alan, her son Jason, her daughter-in-law, Anna Blackmon Picklesimer, her grandsons Garrett and Wyatt, her sisters, Martha Kelly(Lanny), Margaret Bishop (Spud), and Fran Massey (Kenny) and her sister-in-law,  Judy Belitz.
 A funeral is Scheduled  for Friday, February 19, 2021, at St. Thomas Catholic Church  at 80 St. Thomas Way Montevallo, Al. Father Ray Dunmyer will officiate.
Visitation will begin at 10:00 am, and the funeral service will begin at 11:00.
For anyone that may want to join with a Rosary, this will begin at 10:15.
All are welcome to attend and celebrate Mattie's life, on Friday, Feb. 19.
The family has asked that in lieu of flowers please make your donations to
Community Cenacolo America, 9485 Regency Square Blvd. Ste. 110, Jacksonville, Florida, 32225,  www.Hopereborn.org (In memory of Mattie Picklesimer) or St. Judes Children's Research Hospital.
On Monday, February 22, 2021, at 1:15 PM, Mattie will be laid to rest at the Alabama National Cemetery in Montevallo, Alabama.
The family would like to thank all who were involved in prayers over this past few days as it gave them comfort. Please continue praying.