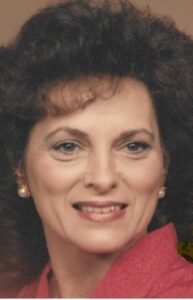 Mary Charleen Lunsford, aged 84, passed away at home on Wednesday, September  16, 2020. Originally from Marshalltown, Iowa, 'Charleen' as she was known to all  her friends, moved to Alabama with her husband 'Jim' and their 4 young children in  1968. Formerly from Alabaster, she lived in Calera for the past 25 years.
Charleen was a devoted wife and mother who appreciated being able to stay at  home to raise her family. Despite caring for her husband and own children, Charleen always tried to make time for everyone. As one of Jehovah's Witnesses,  Charleen fully supported her husband as he served as an Elder throughout the years  in various Jehovah's Witness congregations, tirelessly helping others and making  everyone feel loved with her kindness, hospitality and generous spirit. Even after  her health prevented her from doing as much as she would have liked, she  continued to do what she could and was faithful until the end.
She was preceded in death by her parents, George 'Basil' Gould Sr. and Julia B.  (Cook) Gould as well as her youngest daughter, Nicole 'Nikki' L. Warner.
She is survived by her loving husband of almost 67 years, Jimmie D. Lunsford;  sons Stephen D. (Suzanne) Lunsford, Kim E. Lunsford; daughter, Julie A. (Denny)  Taylor; sisters, Barbara McKibben, Sandra Smith, Carla Rees and Cheryl Cripps;  brother George B. Gould Jr; 8 grandchildren and 16 great grandchildren; and  numerous other family members and friends.
A virtual Memorial Service will be held beginning 1:00 pm on Saturday, September  26, 2020 to be hosted by the Alabaster Congregation of Jehovah's Witnesses.