Joe Wayne "Lil Joe" Wells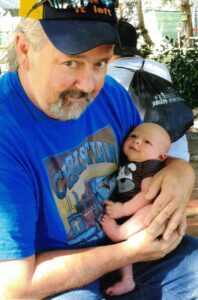 Joe W. Wells, age 58 of Shelby, Al. passed away Saturday, August 7, 2021. Joe is preceded in death by his father, Milton Wells; mother, Annie Foster Wells. Joe is survived by his loving wife, Betty Wells; daughter, Laurie Abbott (Chad); sons, James Wildman (Nyla) and Jeremy Wells; granddaughter, Amber Foister (Ron Schultz); grandson, Corey Beam(Stormy); great-grandchildern, Brenley, Aubrey, Cameron, Boston, Ian and Solstice; sisters, Anna Lou and Teresa; brothers, Tommy (Sue) and Max (Frances); Neices, Jessica Horton, Patience Liner , Tammy Kromer; nephews, Nick Wells, Brandon Wells, Kommie Collins, Josh Wells and Tommy Wells Jr.; and numerous extended family and friends.
Joe was a long-haul truck driver for many years and saw many places but loved being home with his family best. Joe will be remembered most for his kindness to all, he never met a stranger that he wouldn't help. You will never meet a person who loved children more and was a true man of God. Joe used his faith and commitment to the lord to be that example of kindness. All of these are some of the very many reasons why he will be so greatly missed.
Services for Joe will be Wednesday, August 11, 2021 in the Chapel of Charter Funeral Home. Visitation will be at 3:00 p.m. with a Celebration of his Life to follow at 4:00 p.m.