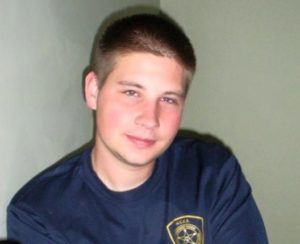 Christopher Lloyd Fenn, 29, of Helena, Alabama passed away on September 27, 2018 due to a hypoxic brain injury brought on by a fall. He was the son of Walter Lloyd Fenn and Cheryl Donnelly Lusco. Chris was born in Salt Lake City, Utah but lived most of his life in Texas. He moved to Alabama a few years ago.  He had two Associate's Degrees including one in Law Enforcement. His most recent place of employment was Express Oil Change in Hoover/Bessemer.
Christopher is survived by his parents Walter Fenn and his wife Christy Fenn of New Hope, Alabama and Cheryl Lusco and her husband Gregory Lusco of Pelham, Alabama as well as his sister Cassandra Fenn of Waco, Texas, brother Cory Fenn of Helena, Alabama and sister Carly Fenn of Helena, Alabama. His maternal grandparents are James and Ann Donnelly are from Bradenton, Florida. He is also survived by his Uncle Jim Donnelly of Bradenton, Florida, Aunt Kelley and Uncle Daniel Gonzalez of El Paso, Texas, Aunt Teresa and Uncle Larry Martin of Fort Worth, Texas, Aunt Tanna and Uncle Thomas Antonucci of Manassas, Maryland, Aunt Debra and Uncle Brett Butler of Spring, Texas, Aunt Erin and Uncle Matthew Humble of Fort Worth, Texas, and Uncle Kevin and Aunt Sheree Fenn of Justin, Texas. He was preceded in death by his paternal grandparents Lloyd and Lewella Fenn. He also is survived by over 30 cousins, his best friend, Michelle Guidroz, and many friends and coworkers.
A Celebration of Christopher's life will be held on Saturday, September 29th at Charter Funeral Home in Calera, Alabama from 5-7pm.  In lieu of flowers, donations may be made in Christopher's name to the Alabama Organ Donation Center or Shelby County Humane Society as Chris himself was an organ donor and a cat lover.