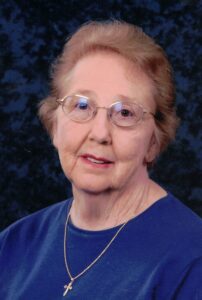 Carol LaVell Pless, age 85, passed away peacefully at her home in Calera, Al on Thursday, June 30th, 2022. Carol was born on January 16th, 1937 in Rockford, Al. She was proceeded by parents Audie and Ernie Lee Cowart, her loving husband of 47 years, Daniel Reed Pless Sr. and her brother Authur Cowart.
Carol is survived by her daughter, Stacy Pless Littleton (Charles); sons, Daniel Reed Pless Jr. (Janelle), Wendell Derwin Pless (Deborah); sister, Mavis Cowart Sallas; Brother, Robert Cowart (Sally); grandchildren, Daniel Keith Pless, Savannah Gothard (Charles), Abbigale Pless, Tessa Dierking (Preston); great grandchildren, Eli Fulmer and another on the way (Tessa); and her best friend and fur baby Miss Priss.
Services will be held Wednesday, July 6th, 2022 at Charter Funeral Home. A visitation will be held at 10 am followed by the service at 11 am. Carol Pless will be laid to rest in Shelby Memory Gardens. Pastors Scott Fowler of Spring Creek Cumberland Presbyterian Church, Montevallo and Bobby Lewis of RiverPoint Church, Pelham will be officiating.
Family would like to invite everyone to a lunch at Spring Creek Cumberland Presbyterian Church (3411 Spring Creek Rd, Montevallo, AL 35115) after services.