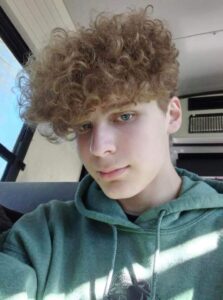 Aaron Josiah Brewer, often called "A. J." or "Aaron Jo" by his parents, age 16, went home to be with the Lord on Friday afternoon, March 25, 2022, near the end of the school day in track class.
    Aaron was born on December 28, 2005, in Murfreesboro, TN, to Matthew Ryan Brewer and Kristi Patricia Brewer. Prior to beginning classes at Pelham High School in August 2021, he had been homeschooled and had met weekly with Classical Conversations, a faith-based community focused on Classical education. His hobbies included collecting rare Pokémon cards, rhythm gaming, Minecraft, chess, piano, and Parkour—when he wasn't running or biking.  Aaron was also blessed with a sharp mind, a keen eye for order and detail, and a degree of empathy and genuine caring unusual for his years. He loved his family, his friends, his Savior Jesus Christ, and helping others.
Although Aaron is gone from us, he is no doubt thrilled to be partying in heaven with a few family and friends who have gone before him, including his Great Grandma and Grandpa Brewer, his Nanny and Pawpaw Murphree, his great uncle Charles Murphree, and a dear friend Miss Torrence Baily. She will likely still be gushing about how big he has gotten! He is eagerly awaiting the future arrival of those he has temporarily left behind.
     He will be deeply missed by surviving family, including his parents (Ryan & Kristi Brewer), sister (Amber Brewer), grandparents (Ed & Ann Brewer, Ken & Lynn Larsen, and Steve & Maryjean Gregory), aunts and uncles (Jody & Sean Jordet, Natalie & Adam Frazin, and Shaun Brewer), and a myriad of cousins, as well as his devoted girlfriend, Katey Shaw. While we grieve being separated now, we are comforted to know beyond any doubt that we will meet Aaron again, in Heaven, in the Lord's time.
            Visitation for Aaron's friends and family will be held at Charter Funeral Home in Calera, Alabama, on Friday, April 1, 2022, from 6:00-‒8:00 pm.  Food from Cozumel Grill and Mexican Restaurant, a family favorite, will be served. A Celebration of Life Service will be held at the Riverchase campus of Highlands church on Saturday, April 2, 2022, at 1:30 p.m.