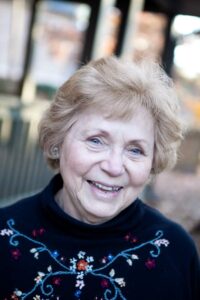 Voncille C. Jones, age 94, went home to be with her Lord on Sunday, April 17, 2022. Voncille was born into the Carroll family on June 07, 1927. She was in the class of 1942 and a graduate of Thompson High School. Family remembers her as having a strong work ethic in business for many years, past president of the Beautification Board in Alabaster, and was a wonderful, loving, caring mother and grandmother.
She is preceded in death by her husband of 53 years, Ralph Lee Jones; parents, Irving Elsie Carroll and Maude Abbott; sisters, Melba Thomason and Jewel Aldridge; niece, Julie Chapman.
Her surviving relatives include three daughters, Mary Beth Smith (Michael Perry) , Jeannie Jones, and Sandra Dale Ducic; grandsons, Erik L. Smith (Heidi), Daniel S. Smith (Tracy), Nicholas Ducic, and Jack Ducic; granddaughter, Bella Rose Ducic; great-granddaughter, Kennedy Smith; brother, Wilton Randall Abbott; nephew, David Chapman; niece, Nancy Raybren (Donald); and a host of other nieces and nephews.
Special thanks to Maggie Mosquedo, Mirna Cellitti, and Andrea Salvatierra, who helped care for our mother so well and whom our mother loved dearly.
Services for Voncille will be held on Saturday, April 23, 2022 at the First Baptist Church of Alabaster at 11:00 a.m. with a time to visit one hour prior to her service in the sanctuary. Burial will follow at Jefferson Memorial Gardens in Hoover. Officiates of her services will be Dr. Steve Andrews, Rev. Michael McVay, and Rev. Mike Byars.  Charter Funeral Home in Calera is handling her arrangements.