Velma Mae "Trixie" Winfrey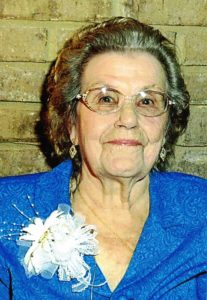 Velma Mae "Trixie" Winfrey, age 91, of Pelham received her heavenly reward Sunday, June 2, 2019.
Velma was born in Cullman County, Alabama to parents Aquilla and Mae Rebecca Moore and was 1 of 13 children.
 Trixie met her husband George while working in a cotton field and they were married in 1953. The Winfrey's re-located to the community of Fungo Hollow where they began their life and raised their family. George and Trixie were married 46 years when he passed in 1999. Trixie found another love and companionship in Chester Puckett and they were married 15 years. Trixie was an expert seamstress and a passionate southern cook. She leaves a legacy of always having an open door with food on the table for all.
Trixie is preceded in death by her husbands, George Winfrey and Chester Puckett; son, Dale J. Winfrey and grandson, Lance Taylor.  She is survived by her children, Danny Winfrey (Joy), Lynne Taylor (Chris) and Davey Winfrey (Lucretta); Grandchildren, Matt Winfrey (Kristin), Misty Winfrey, Tiffany White (Trey), Kendra Winfrey, Katie Winfrey, Melissa Taylor and Nicole Taylor (T.J.); great- grandchildren, Toni Michelle, Khole, John Harrison, Jacob, Courtney, Will, Makayla and Cole; sisters, Frances Curtis, Wyomia Quinn and Angie Phillips and a host of nieces, nephews and friends who she cared for and loved as her own.
Services will be held Wednesday, June 5, 2019 from 1:00 p.m. – 2:00 p.m. for visitation with a service to follow at 2:00 p.m.