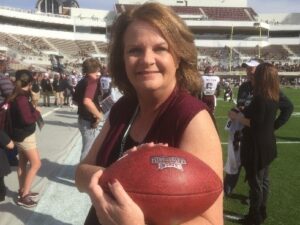 December 29, 1961 – May 15, 2022
We lost Susan unexpectedly after a fight with ARDS but she will forever be remembered by those who knew her.
Susan was born and raised in Carthage, MS.  Among other things, she was known for her classic brown Camaro and as well as being the Drum Major for the Carthage Tiger Marching Band.  After graduation from CHS, she attended Holmes Junior College where she was also Drum Major.  After her time at Holmes, she went on to earn a Bachelor's degree in Special in Education at her beloved Mississippi State University.  Her next stop was as a special education teacher in Natchez, MS, where she had the misfortune of meeting her loving husband, Chris, at a crawfish boil.  After marrying in 1987, Susan went on to earn a Master's degree in Special Education.  From there, Chris' career took them to live in Pompton Lakes, New Jersey; Pittsburgh, PA; Atlanta, GA and finally they settled in Birmingham, AL.  It was while in Pittsburgh that their son, Philip Boyd Williamson, was born in April of 1993.  Susan continued teaching at each stop and made an impact on the lives of everyone she met.  Upon retiring from teaching, Susan ran a successful Kumon tutoring franchise and continued tutoring after closing the business.
Susan had a great love of everything but especially her family, friends, children, animals and travel. Enthusiastic and outgoing, she could make friends everywhere be it a sports event, in line at the grocery store or at the local dog park.  Susan loved to serve others and served as room mother, team mom, Den Mother, and Assistant Scoutmaster.  She particularly loved Scouting and impacting young lives while watching her son Philip grow and attain the rank of Eagle Scout. She enjoyed many campouts, summer camps and even a horseback trip to Philmont Scout Ranch in New Mexico. She also enjoyed going on redfish trips with Chris.
Over the years, Chris and Susan were blessed to be able to travel and visited 40 states, France, Belgium, Luxembourg, Germany, Switzerland, Italy, and the principality of Monaco.  She particularly loved Paris and the Normandy region of France.  Susan loved going to sports events and was fortunate enough to attend a Super Bowl, a World Series, many Saints, LSU, MSU and Vanderbilt games as well as multiple football national championships, four College World Series, many NASCAR races (what part of drying the track do you not understand, Susan?) and a Formula One race.  While she cheered for Chris' team (LSU Tigers), Philip's team (Vanderbilt Commodores), the Mississippi State Bulldogs were always #1 in her heart.  Her proudest MSU moment was their winning the College World Series in 2021.
Susan was preceded in death by her father Jack Hardage, mother Lynn Hardage, sister Norma Hardage Sanders, nephew Jimmy Sanders on her side and parents Bill & Nancy and brothers Bob & Rick on Chris' side. Also preceding her were cats Boudreaux, Lagniappe, Susie Cat, Little Cat, Bob Cat, Boo and Thibodeaux and dogs Tank and Bear.  She is survived by her husband Chris, son Philip (Atlanta, GA), Norma's daughter Stephanie (Butch), Jimmy's wife Bree, sister-in-law Ellen (Baton Rouge), brother-in-law John (Debbie), nephew Brian Williamson (Jacalyn) and nephew Bill (Kelli) as well as numerous grandnieces & grandnephews.  Surviving Susan as well are Shenanigans the cat and dogs Boz & Maggie.  She was always an advocate for animals and a sucker for a stray or a rescue!!
You are invited to come celebrate Susan's life at a crawfish boil (after all, that is how she and Chris met) Saturday, May 21 at Siluria Brewing Company from 2:00-5:00.  In lieu of flowers, please make a donation in Susan's name to Two by Two Rescue at P.O. Box 708, Helena, AL  35080 or online at twobytworescue.com.
Thank you for being such a wonderful wife, friend and companion for all of these years and great adventures as well as the gift of our wonderful son Philip.  I will mourn your loss until the day we meet again in Heaven.