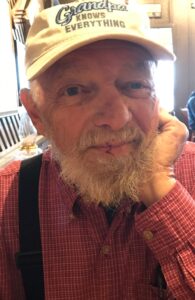 Robin Lloyd Hilliker (74) departed life August 7, 2022. He was born November 24,
1947 in Lansing, Michigan to Lloyd and Pearl Hilliker. Rob is preceded in death by
both parents, sister Mary Bickford and brother Dale Hilliker. He is survived by his
wife, Sally Hilliker whom he married August 31, 1984, at Oakmont Presbyterian
where they met. Rob is also survived by his sister, Alberta Clare of Battlecreek,
MI; son, Kary Hilliker (Rebecca) of Sylacauga, AL; daughter Kami Dufrene of Foley,
AL; stepson Frank Egan (Lanie) of Chelsea, AL; and Robin Mask-Bareford (Taylor)
of Atlanta, GA. Rob has eight grandchildren and 13 great grandchildren.
Rob served in the Navy in the late 1960s and early 1970s. His best memories of
that time were serving on the USS Kittyhawk. Rob attended Nazarene Bible
College in Colorado Springs, CO and pastored several small churches in Wisconsin
before moving to Alabama. He worked for the Shelby County school system as he
maintenance technician at Pelham High School for 20 years, retiring in 2013.
Rob love to fish, play guitar, sing in the church choir and spent many hours
tackling the endless to-do list of his mother-in-law. Rob was a long-time member
of Calera First Unite Methodist before moving his membership back to Oakmont
Chapel Presbyterian. Clay Farrington who a favorite minister during Rob's time at
Calera First UMC will be the officiant at the memorial service which will be held
Wednesday, August 31, 2022, at 11:00 AM at Oakmont Chapel Presbyterian
Church in Hoover, AL. The family will receive friends for a short time
after the service.
In lieu of flower, the family requests donations be made in Rob's memory to
Habitat for Humanity.