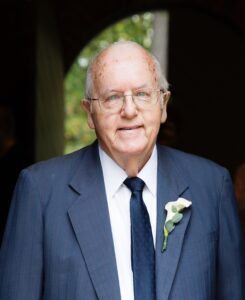 Robert A. Bradley, 81, of Prattville, Ala., passed away Tuesday, Dec. 29, 2020, after a relatively short battle with cancer. Known by many as "Brother Bob," he was preceded in death by his parents, Robert A. Bradley Sr. and Gladys Norred Bradley, as well as his brother Bill Bradley (who died as a child) and his son-in-law Jimmy Bryan Jr.
He is survived by his wife of 55 years, Barbara Reeser Bradley; their three children, Robert A. "Brad" Bradley III, Belinda Bradley Faulkner (Mark) and Robyn Bradley Bryan; grandchildren Piper Faulkner, Erin Faulkner, Bradley Faulkner, Tyler Garner, Jill Hudson (Jason), Cole Bradley, Matthew Bryan, U.S. Army Spc. Mark Bryan (Kourtney), Madelyn Brantley (Phillip) and Michaela Litchfield; great-grandchildren Gracie Gaines, Cali Rain Harrellson, Parker Kate Harrellson, Adelynn Bryan, Mason Bryan and Lalah Bryan; siblings Rae Green, Tom Bradley, Ricky Bradley, Johnnie Carney (Bob) and Pat Brown; and dozens of nieces, nephews, brothers- and sisters-in-law and cousins.
The second of seven children, Bradley was born in Alabaster, Ala., and grew up in what is now the Riverchase area, within walking distance of his beloved Cahaba River. He was called to the ministry as a youngster and was ordained within days of his 26th birthday. He married the love of his life – and helpmate in the ministry – a few months later, serving with her at a handful of Alabama churches in Jefferson, Shelby and Walker counties. As a young pastor, husband and father, he continued his education and earned a bachelor's degree from Samford University and a master's degree from the University of Alabama at Birmingham.
In 1978, his life changed dramatically as he and his wife answered the call to carry out the Great Commission to spread the gospel of Jesus Christ. After being appointed by the Southern Baptist-based International Mission Board, the couple served their first 16 years in Hong Kong and Macau. They then were assigned to Tel Aviv, Israel, for four years, Rome, Italy, for one year, and Munich, Germany, for almost three years. Not only did Bradley learn conversational Cantonese in Hong Kong, but he prepared and preached at least one full sermon in the language. He embraced the various cultures – the people, the food, the life – no matter they lived.
Among Bradley's greatest gifts were hospitality and simply loving people. The Lord used these gifts as He placed the Bradleys in a number of churches and situations through which they used love to minister to and serve individuals experiencing crises and facing a variety of challenges.
Because of the pandemic, Brother Bob's wife and children chose to have a family graveside service at 1 p.m. Monday, Jan. 4, 2021, at Dargin Cemetery, in Calera, Ala. The family will announce plans for a public celebration of life at a later date, when they have finalized details.