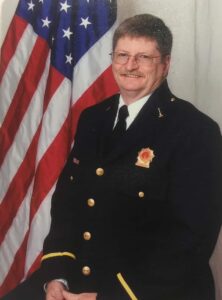 Phillip "Phil" A. Harris, age 68, of Alabaster, God called him home on Saturday, February 12, 2022 with his family by his side.
Phil is preceded in death by his parents, William "Cecil" Harris & Lillian Robinson Harris.
Phil is survived by his loving wife of 47 years and 8 months, Mary H. Harris; daughter, Cindy Marie Gibbs; son, Thomas P. "Tommy" Harris; grandchildren, Marshall Murner, Tucker Gibbs, and Aubrey Gibbs; brother, J.W. Harris.
Phil worked with and retired from the Alabaster Fire Department after 28 years. Phil was a beloved husband, father, grandfather, brother, and friend that will be greatly missed by all.
Services for Phil will be held in the Charter Funeral Home Chapel, a visitation will be held Thursday, February 17, 2022 from 6 pm to 8 pm. A funeral service will be held Friday , February 18, 2022 at 2 pm. Phil will be laid to rest in Nabors cemetery. In lieu of flowers please donate to Two by Two Rescue Animal Rescue. (PO Box 708, Helena Al 35080)