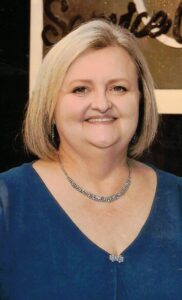 Pamela Rose Hill Parks, age 63, passed away on Sunday, March 8, 2020.  She is survived by her loving husband of 25 years, Kenneth G. Parks; daughter, Lindsey Lawrence (Shawn); step-daughters, Racheal Parks and Sarah Townsend (Darren); grandchildren, Anna Pickett, Markus Lawrence and Mason Lawrence; brother, John Hill (Leila); cousins, Donald Hurd (Melinda), Mary Hurd Freeman (Joel), Cynthia Hurd Gilbert, Laura Lue Nicholes, Billy Hurd, Donald T. Hurd, and Frankie Fay; sister-in-law, Alice C. Holsomback (Jackey); and brother-in-laws, Ronald L. Parks (Connie) and Jerome M. Parks (Angie). Pamela is preceded in death by her parents, John and Louise Hill.
Pamela worked on the EMU as a Registered EEG Technician at Children's Hospital from 1994-2020.  She worked her way up to being a supervisor.  Pam also volunteered in the Women and Infants Center at UAB.  She loved reading and gardening. She always kept the most beautiful flowers. She absolutely adored her two fur babies Gracie and Sadie. Pamela was devoted to her family and her extended work family. She had a great love for the LORD.
 A Visitation will be held on Thursday, March 12, 2020 from 4:00 p.m. – 8:00 p.m. in the chapel of Charter Funeral Home.  Another visitation will be held on Friday, March 13, 2020 from 09:30 a.m. – 10:30 a.m., with a funeral service immediately following at 10:30 a.m., both held in the chapel of Charter Funeral Home.  Pastor Tony Roberts will be officiating.  Burial will be in the Alabama National Cemetery at 11:45 a.m.
In lieu of flowers, please make donations in Pamela's name to Children's Hospital of Alabama.
https://www.childrensal.org/donate-now
Alabama Children's Hospital Foundation
1600 7th Avenue South
Birmingham, AL 35233
205-638-9183 phone
205-638-2743 fax
[email protected]
www.charterfuneral.com