Martha Janice Green Mahoney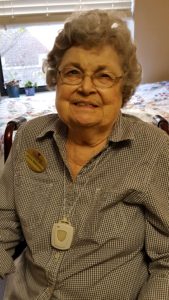 Martha Janice Green Mahoney, of Birmingham, Alabama, age 90, passed away peacefully on March 14, 2018 at St. Vincent's Hospital in Birmingham after a valiant struggle against a series of medical setbacks that befell her weakened condition following hip replacement surgery on January 2nd of this year.
Janice, as she was known to all, was a uniquely giving individual, who devoted her life to serving family, friends and any person she encountered from her community that she perceived was in need of assistance, whether this be welcoming new neighbors, paying social visits to shut-ins, or helping the elderly or infirm with attending appointments or maintaining their yards (recipients of this latter kindness often unaware this service was performed or even necessary).
Janice's greatest love was shared by all.  Devoted to family and friends, she made sure to remember everyone's birthday with a card that almost always arrived on its intended date.  She organized games of cards, Scrabble and all varieties to bring together people from her neighborhood, to make closer acquaintance, build lasting friendships and promote a greater sense of community.
Janice was born in Montgomery into a loving and close-knit family as the third of seven siblings. She was married to Col. Daniel C. Mahoney for 44 years until his death in 1996. As an officer's wife, Janice traveled extensively – from California, to Washington, DC, to Thailand and back again to DC — then finally settled in Spokane, Washington, when her husband retired in 1972, where she lived for 27 years and built up a beloved network of friends, family, and neighbors.  Not long after her husband passed away, she returned to Alabama in 1999 to spend her remaining years surrounded by her Green family relations, organizing numerous reunions, attending festive occasions, and generally strengthening family bonds so the especially close ties she and her siblings shared would be maintained and handed down to later generations.
It cannot pass mention that Janice was a devout Christian and tireless participant within all the congregations she attended over the course of her life.  Inspired by God's love, she strove to put Christian ideals of charity into action and provide comfort and support to all around her.
Janice is survived by her sisters (Marjorie Scorey and Dorothy Hawthorne), two brothers (James Green and Richard Green), her two sons, Daniel Crowley Mahoney, Jr. and Mark Green Mahoney along with their spouses, nineteen nieces and nephews, and her grandson, Daniel Davis Mahoney.  A memorial service will be held at the main hall of the Danberry at Inverness retirement home on Saturday, March 17th at 2PM. Her cremains will be interred beside her husband at Arlington National Cemetery at a date yet-to-be-determined. In lieu of flowers, her family requests donations be directed towards Samaritan's Purse (www.samaritanspurse.org), St. Vincent's Hospital (www.stvhs.com) or other charity.