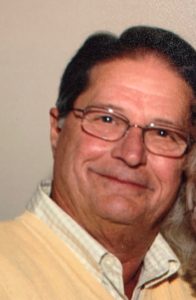 Ken Nelson
1/10/40 – 7/26/19
Ken passed on Friday, July 26, 2019 after a three year battle with lung cancer.
Ken was preceded in death by his parents, Bertha Cassels LaPoska and Alfred "Happy" Nelson; his sister, Joy Comer, and his son, Chad Nelson.
He is survived by his wife of 35 years, Fay Nelson; his sisters, Nell Nelson, Gloria Acton and Sherrel Poole (David); his daughter, Stacie (Brian) Key;  sons, Jason (Jennifer) Nelson and Michael Bengtson; and numerous nieces, nephews, grand and great grandchildren.
Ken was a great salesperson, veteran of the US Army serving during Vietnam, he also loved being out in nature and hunting.
The family is very grateful for the care and compassion that was given to Ken by the Shelby Cancer Care Center.
Please keep the family in your thoughts and prayers. The service will be private.
In lieu of flowers please make a donation to the American Cancer Society or Saint Jude's Children's Hospital.