Kay Strickland Higginbotham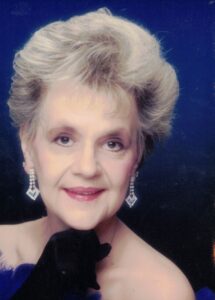 Kay Strickland Higginbotham
3/22/1937 – 12/21/2021
Mom was born in Atlanta, Georgia, and was the light in her parents' eyes, especially being their only child. She had a flair for the dramatic and was considered a "Triple Crown" performer, loving singing, dancing, and acting, earning her the nickname Broadway Kay in later years. She also enjoyed horseback riding, baseball (serving as a coach on one of her son's teams), basketball, and spending time with her many cousins. After graduating Ramsey High School, she briefly attended Auburn University and remained a lifetime fan. Amazingly, though, she fell in love with an Alabama fan from Vance, but it wasn't a house divided but hearts united. He allowed her to focus on being a stay-at-home mom with six kids to raise. She enjoyed living on Lookout Mountain and Birmingham, but Lay Lake in Shelby was her dream home. With her children, it was almost like her having siblings herself, as her imagination made life fun – paper dolls, musical recordings on cassette tape, and trips across the Southeast both in campers and hotels. Mom was always supportive of each child and their unique desires and talents, with each of us having our own tales of how she was always there for us. When she was determined to do something, nothing could stop her, with her even earning a trip to New York and being a published "Face of Beauty." She and Dad were an inspiration for how a marriage should be – never perfect but always loving. Mom will always be remembered for her love of people, sense of humor, intelligence, and strong spirit.
"In a field of roses, she was a WILDFLOWER!"
The family will have an intimate internment and celebration of life on New Year's Eve at Riverchase United Methodist Church (RUMC). New Year's Eve was always a special date night for Mom and Dad, so this was chosen for sentimental reasons. In lieu of flowers or gifts, the family asks for donations to be made to RUMC for the charities that mattered most to her: HCC
Lucy's Kids, Backpack Ministries, and Christian Place missions.