Jennifer Kay Washington Brownlee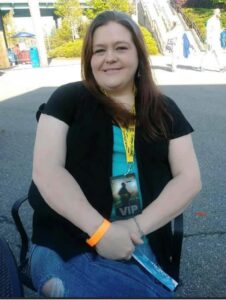 Jennifer Kay Washington Brownlee, 40 of Jemison, AL, passed away, Monday, August 23, 2021. She was born March 3, 1981. She was preceded in death by her parents James Norman Washington Sr. "Jimmy" and Blanch Milstead of Calera, AL.
Jennifer is survived by her husband Chris Brownlee; sons, Cristopher Ray(Briana) of Jemison, Andrew Ray(Heather) of Jemison, Thomas Robinson of Jemison, Daniel Robinson of Jemison, Caleb Brownlee of Jemison, Jordan Brownlee of Tuscaloosa; daughters, Summer Brownlee(Johnathan) of Jemison, Skye Brownlee(Ethan) of Columbus, MS; grandchildren Isabella Ray, Cole Ray, Nora Jo Brownlee; brothers, Norman Washington(Maria) of Birmingham, AL, Jeff Washington(Allison) of Navarre, FL, Dennis Greer of Sumiton, AL; sisters Donna W. Allen(Darrell) of Orange Beach, AL, Lisa W. Strickland(Lee) of Calera, AL, Holly G. Tidwell (Tim) of Calera,AL; and a host of nieces and nephews.
There will be a funeral service held Monday, August 30, 2021 in the Charter Funeral Home Chapel. A visitation will begin at 10 am followed by a service at 11 am. Jennifer will be laid to rest in Shelby Memory Gardens in Calera, AL.