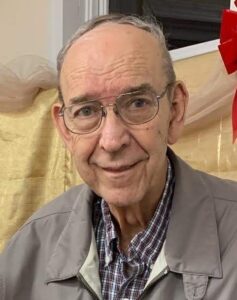 Ivan Dale Byford (PawPaw) of Alabaster, Alabama died on November 12th of natural causes. He was 84 years old. Ivan was born in Peoria, Illinois and moved and lived in Birmingham until his move to Alabaster in 1992.
Ivan raised his family of 3 children with his wife Pat and saw his family grow over the years with grandchildren and great-grandchildren. Ivan loved God and shared God's love with his family, with his church family, with his co-workers and with everyone that he met. He never met a stranger. Through the years he not only worked hard to provide for his family, but he worked and served in his church (Third Presbyterian Church) in many capacities including Sunday School teacher and elder. He shared with his family and friends his great love for Alabama football and the Atlanta Braves baseball team.
Ivan was preceded in death by his parents – Vernice and Leah Byford. He is survived by his wife of 64 years Margaret Patricia (Pat) Byford. He is survived by his brother David (Pam). He is also survived by his children Deborah Byford Ingram (Ben), Ken Byford (Faye), and Richard Byford (Melody).  He is survived by 7 grandchildren – Matthew Ingram (Lindsey), Jennifer Ingram Harrison (Barry), Sandra Jaimes (Francisco), Amanda Byford Fowler (Justin), Lorianne Byford, Kendra Byford, and Daulton Byford.  He also is survived by his 11 great-grandchildren and has 1 more on the way.
A memorial service will be held at Spring Creek Cumberland Presbyterian Church in Montevallo, Alabama on Sunday, November 15th. A visitation will begin at 2:00 p.m. with a service at 2:30 p.m. Interment will follow at Spring Creek Cemetery. In lieu of flowers please make donations to Third Presbyterian Church of Birmingham.
Please observe social distancing and mask requirements at the service.