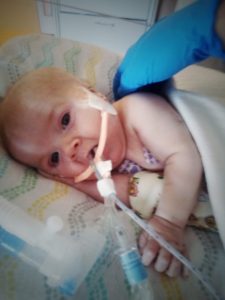 Cruz William Marcus, 3 months, passed away Thursday, June 27, 2019, at Children's Hospital in Birmingham, Al, with his mommy and daddy by his side.
Baby Cruz was born March 23, 2019 to Miranda Marcus of Jemison, Al and Trent Glosson of Brierfield, Al.
In addition to his parents, he is survived by his brothers, Broc Wilson and Coy Glosson; sister, Brailee Wilson; maternal grandparents, Janice Frost and Ned Patterson; paternal grandparents, Lisa Elton and Steve Glosson (wife: Tina); Maternal Uncle, Mason and Crystal Patterson (children: Abby and Grace), Paternal Uncle, Lee and Jamie Collins (child: Emma); Great Godmother, Laura Crumpton; special friends Drew Beam, Sherri and Mike Chancellor, Ashley Chancellor, Jamie and Matt Benson, Jagger Benson and a whole host of loving family and friends.
Cruz was preceded in death by Maternal Uncle Shawn William Marcus, Great Grandparents, Patsy Jane Frost and Tommie Jefferson Frost; and Jimmy Lee Patterson and Louise Delaney Patterson.
Memorial service for Baby Cruz will be held at 6 p.m. Monday, July 1, 2019, at Grace Community Chapel at 1365 8th Avenue, Calera, Al 35040 with a visitation time beginning at 5 p.m. Reverend Jason Seales of Christ Central Church in Calera will be officiating. Charter Funeral Home and Crematory of Calera, Al providing services to the family.