Elizabeth Marie "Betty" Roy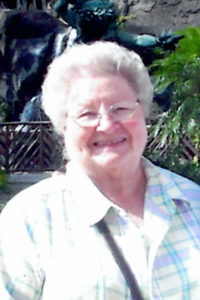 Elizabeth Marie "Betty" Roy, made her peaceful transition on Friday, February 9, 2018 surrounded by those she loved. She was born in Calera, Al. on April 23, 1931 where she met and married her "sweetheart", George Roy, Sr., on June 12, 1948. The love they had for each other is indescribable and was obvious to everyone who knew them. This love, as well as her caring, matriarchal spirit was the solid foundation that kept the Roy family strong through the good times and the bad. She was a peacekeeper, a voice of reason and a shoulder to cry on to friends and family alike. Oh, how we will miss you sweet, sweet lady.
She was predeceased by her precious children Betty Jane Edwards and "Little" George Roy, Jr., son-in-law Ricky Cairns, daughter-in-law Joyce Roy, grandsons Robert "Bo" Edwards, Jr. and Chris Roy, father, Samuel Tomlin, mother Nettie Gullahorn,7 brothers and 5 sisters.
Those left to cherish her memory include her loving "sweetheart" of 69 years, George W. Roy, Sr., daughter Barbara Franks (Timmy), Doris Ann Sajpel (Wally), James Richard Roy (Dee Ann) and Tommy Edwards (Courtney), 12 grandchildren filled with loving memories of our "granny" with 19 great-grandchildren and 3 great-great grandchildren we will share her stories with, as well as a host of nieces and nephews.
Visitation will be held on Monday, February 12, 2018 from 10:00 a.m. – 12:00 p.m., with a funeral service to follow at 12:00 p.m., both at Charter Funeral Home.  Burial will be in Shelby Memory Garden.