Arthur Douglas "Doug" Wilson, Jr.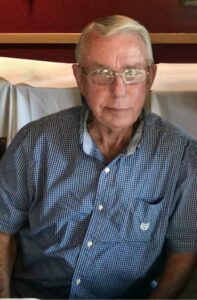 Our beloved Doug went to be home with his heavenly Father while surrounded by family on Sunday, May 10, 2020. Over the last year, he has fought his battle with cancer with strength, hope and a smile on his face accompanied by his usual humor no matter how he felt or the circumstance. Doug attended Church of the Highlands at the Fultondale Campus alongside his wife, Bobbye Wilson.  Among being a proud veteran of the U.S. Army, a 38 year Bellsouth retiree, a woodworking hobbyist, nature enthusiast and craftsman, he would tell you his highest honor was being "PPD", which stands for "Paw-Paw-Doug." He valued his family and others above all else, and to know him was to love him – you had no choice. He is known as PPD whether you are family, or not, since he is Paw-Paw to everyone. Doug is survived by his wife of 26 years, Bobbye Cary Wilson; sons, Todd Wilson (Jane), Michael "Mike" Wilson (Jennifer), Ross Wilson, Brandon Johnson (Candi) and Andrew Johnson (Crystal); sister, Linda Wilson; brothers, Norman Wilson (Darlene) and Rex Wilson (Sandy); 12 grandchildren and 3 great-grandchildren. Furbabies, Ike, Aubie & Luci. He is preceded in death by his parents, Myrtle Bates Wilson and Arthur Douglas Wilson, Sr.
Services for Doug will be held on Wednesday, May 13, 2020 in Charter Funeral Home Chapel from 9:00 a.m. – 11:00 a.m. for visitation with a service to follow.  He will be laid to rest in the Alabama National Cemetery.
In lieu of flowers please consider making a donation in his honor to one of his beloved charities – Greater Birmingham Humane Society, St. Jude's Children's Hospital and just keep smiling.