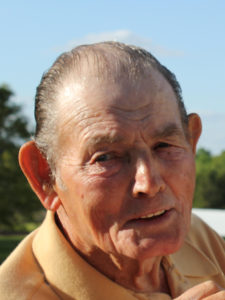 Amos E Hosey
11/5/2018
Beloved husband, father, grandfather and friend to many passed peacefully at his home surrounded by love.
Retired from Trinity Industries, Amos spent his retirement working in lawn care and farming, preferring to keep active until the very end.
Showering all who knew him with vegetables and flowers from his garden and importing wisdom along the way. With a sunny disposition and a twinkle in his eye, he kept all entertained with his stories and songs.
Preceded in death by parents, Fred and Elton Hosey and Bessie Mae and T C Crete and daughter, Amanda E Hosey. Survived by loving wife of 67 years, Louise Hosey, children Jimbo (James D) Hosey (Teresa), Tracy Gilliom (Bryan); grandchildren Christopher N Dunn (Ruth), James Aaron Hosey (Jordan), Justin D Hosey (Ally) and Jarred Hosey; 7 great grandchildren and 4 great, great grandchildren and countless friends and distant family.
We are eternally grateful to our angel walking, Shirley Dumas, for the love, care and friendship she has shown us all, especially Amos.
A special thanks to all the wonderful caregivers at Shelby Cancer Center for their sweetness and consideration.
Visitation Friday, 11/9/18 6p – 8p at Charter Funeral Home in Calera. Funeral Saturday, 11/10/18 at 11a.